The Rimac Nevera has been called "the future of electric sports cars" due to its innovative features and excellent performance. A genuine road monster, the Nevera can reach 258 mph at top speed and accelerate from 0 to 60 mph in just 1.85 seconds! The Nevera's futuristic styling and impressive performance set it apart from the competition. In this article, we will be focusing on the excellent Rimac Nevera interior.
We'll also look at how the Nevera cabin manages to be aesthetically pleasing and functionally sound, providing a high-end ride with all the comforts of home. What makes the Nevera's interior stand out from the rest of the pack will be revealed, from the premium materials and cutting-edge technology to the well-thought-out layout and design.
Interior Design
When you enter the Rimac Nevera, the futuristic style will immediately stand out. Using high-end components like leather, carbon fiber, and aluminum throughout the cabin creates a luxurious atmosphere. The primary color is black, while accents of silver and red give the design an athletic feel.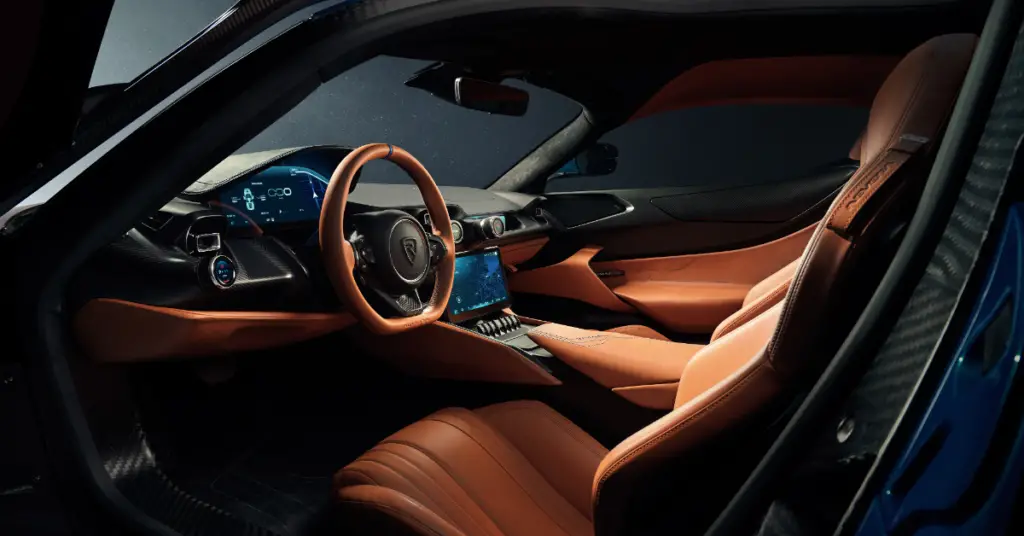 The Nevera's seats are soft and supportive, with a lumbar and side support that can be adjusted to create a snug and comfortable fit for each passenger. Everything you need to know at a glance is presented digitally on a sleek and uncomplicated dashboard and instrument panel. Navigation, music streaming, and hands-free phone control are some of the capabilities and settings available on the infotainment system's wide touchscreen display.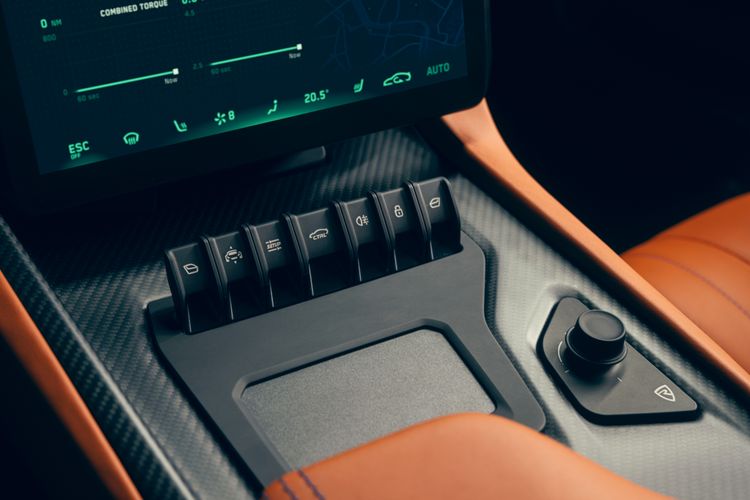 Comfort and Convenience Features
The driving experience is enhanced by the Rimac Nevera's extensive list of comfort, and convenience amenities and the car's already excellent styling and appearance. No matter the weather outside, you can always enjoy a pleasant ride inside, thanks to the climate control system. Its robust amplifier and premium speakers make the sound system genuinely state-of-the-art.
A wireless charging station and plenty of storage space, such as a roomy center console and door pockets, all contribute to the vehicle's user-friendliness. The Nevera's high-tech features include a head-up display that displays information directly onto the windshield and a 360-degree camera system that aids parking and maneuverability.
Practicality
The Rimac Nevera is a high-end sports car in every respect, but it's also very functional and comfortable for an everyday driver. The infotainment system, instrument panel, and user interface are all well-designed and laid out so that dealing with them is simple. The Nevera's adjustable seating and huge cargo space make it an excellent choice for extended trips or everyday commuting.
Nevera's cutting-edge electronics and software enhance its usability. Keep your eyes on the road while staying informed, thanks to the head-up display. The wireless charging pad and 360-degree video system make parking and maneuvering easier while charging your devices.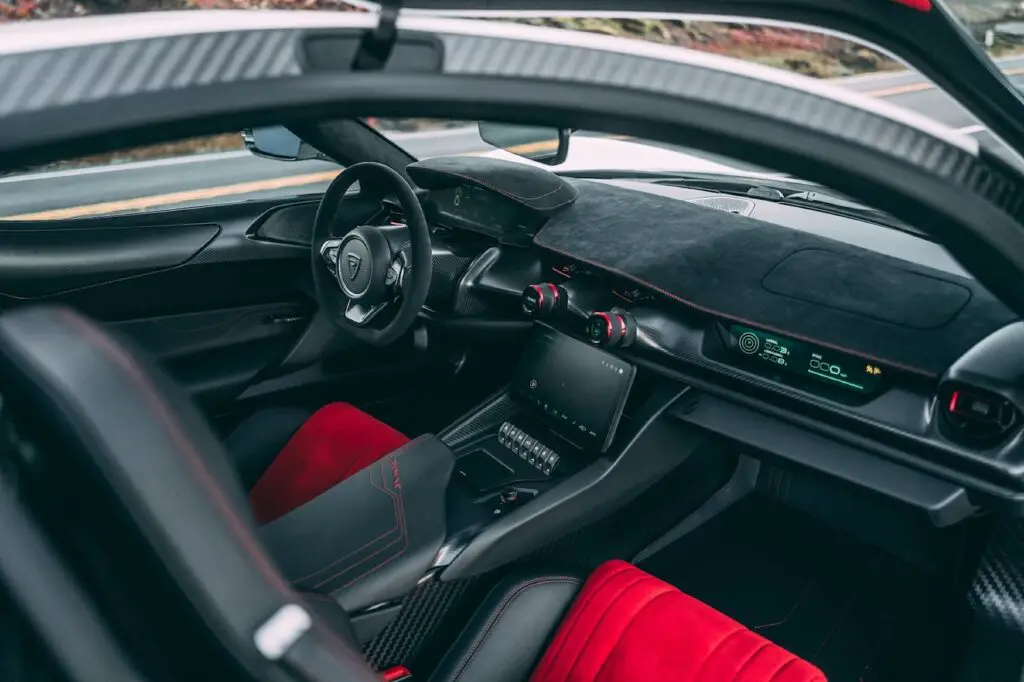 Wrap Up
In conclusion, the Rimac Nevera is an electric sports car with outstanding performance thanks to its advanced technology, futuristic styling, and amazing specifications. The interior of the Nevera strikes a wonderful mix between form and function thanks to its premium materials, cutting-edge technology, and intuitive design. The Nevera's interior is a showcase of luxury and comfort, featuring plush seating, a state-of-the-art sound system, substantial storage space, and cutting-edge technology.
Whether you're on the hunt for an electric sports car or just curious about the Nevera, we hope this article has helped you gain a deeper appreciation for this vehicle. There is no better option in the luxury sports vehicle market than this one, which is why it has become so popular.