An electric vehicle can accelerate as quickly as the motors are intended to enable because the power is ready to go in the battery. This indicates that a few of them offer astounding 0-60 mph times that outperform even the most powerful internal combustion vehicles.
Granted, having rapid acceleration isn't everything—not the least of which is the fact that doing so would quickly deplete your battery life. Even so, it merits a celebration. So, here is a list of the top 10 electric vehicles for 0-60 mph acceleration.
This list is only composed of vehicles that are currently on the road, although we did include several that have not yet been released. All statistics mentioned are those that the manufacturer maintains.
10. Lotus Evija (2.8 Seconds)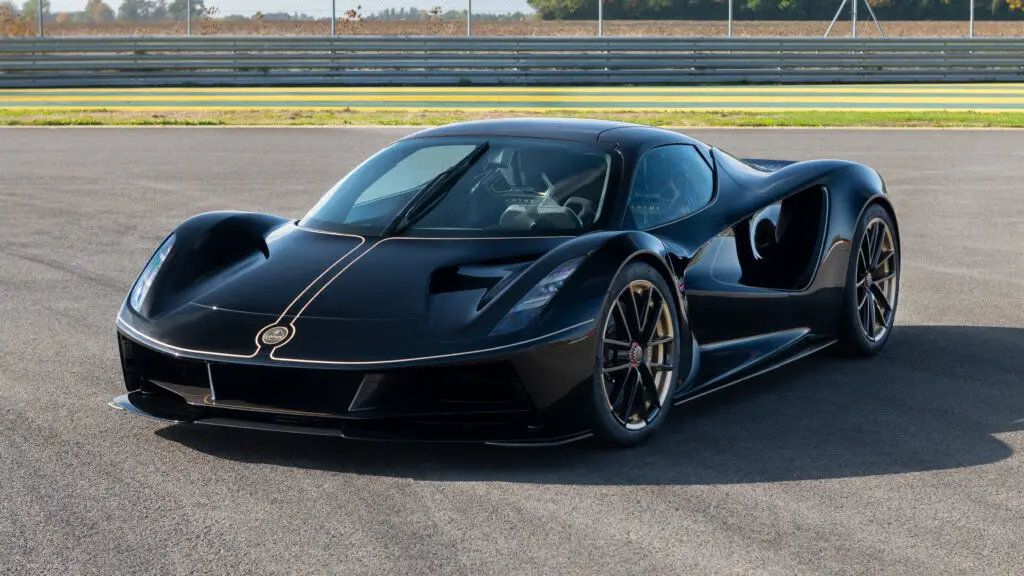 Pushing the limits of contemporary hypercar technology is the goal of the Lotus Evija. This model commits to being electric and comes with an ultrafast charging arrangement, while several competitors offer hybrid powertrains. Its outside styling is inspired by race cars created to rule the track.
The car's sheet metal features butterfly doors and a sizable rear wing, among many other things. But what this car offers from its four electric motors is the best: According to Lotus, the Evija has around 2000 horsepower, making it the world's most potent production vehicle. This cutting-edge hypercar is only be produced in 130 units, each costing more than $2 million.
The Evija, according to the manufacturer, weighs a little over 3700 pounds, making it the lightest production EV hypercar ever. More than 200 mph is the top speed that the Evija can reach. Five driving modes allow for customization of the vehicle's performance: Track, Range, City, Tour, Sport
Many other EVs are different from the Evija. It has technology intended to make battery charging virtually as quick as filling up at a gas station. For an 80% charge, the vehicle needs 12 minutes, and a full charge only requires 18 minutes.
9. Porsche Taycan Turbo S (2.6 Seconds)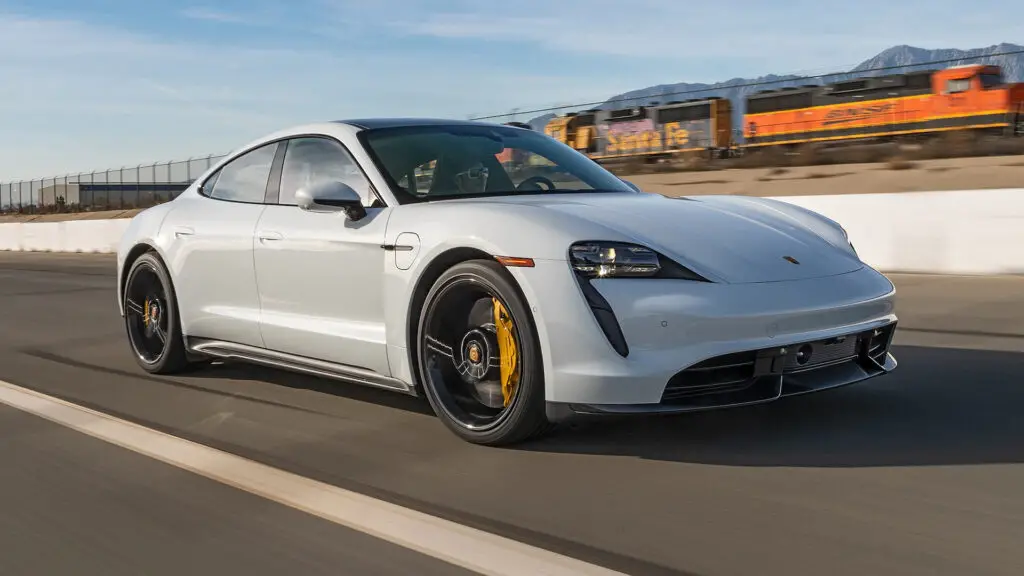 The Porsche Taycan prioritizes driving enjoyment above all else, contrary to how sports car driving qualities are typically prioritized for electric vehicles. Porsche built a four-door vehicle with human engagement in mind rather than automated, emotionless transportation, using battery power as an opportunity rather than an excuse.
The Taycan can charge at a pace of up to 270 kWh on a strong enough DC fast charger thanks to an 800-volt architecture. A low-slung driving position and a 16.8-inch curved display complete the traditional Stuttgart driving experience.
Most Taycan vehicles have two electric motors, one driving the front wheels and the other the back. The two independent outputs differ based on trim level. With the lesser battery, the 4S produces 522 horsepower, and the larger battery has 562 horsepower. The top models, the 670-hp Turbo and the 750-hp Turbo S include the large juicer as standard equipment. Depending on the battery capacity, the base model's horsepower ranges from 402 to 469, although it only has rear-wheel drive.
The Tesla Model S can travel up to 400 miles on a single charge, while the Taycan's range is ordinary in comparison. Depending on the battery size and electric motors, the Porsche ranges from 206 to 246 miles.
8. Tesla Model X Plaid (2.5 Seconds)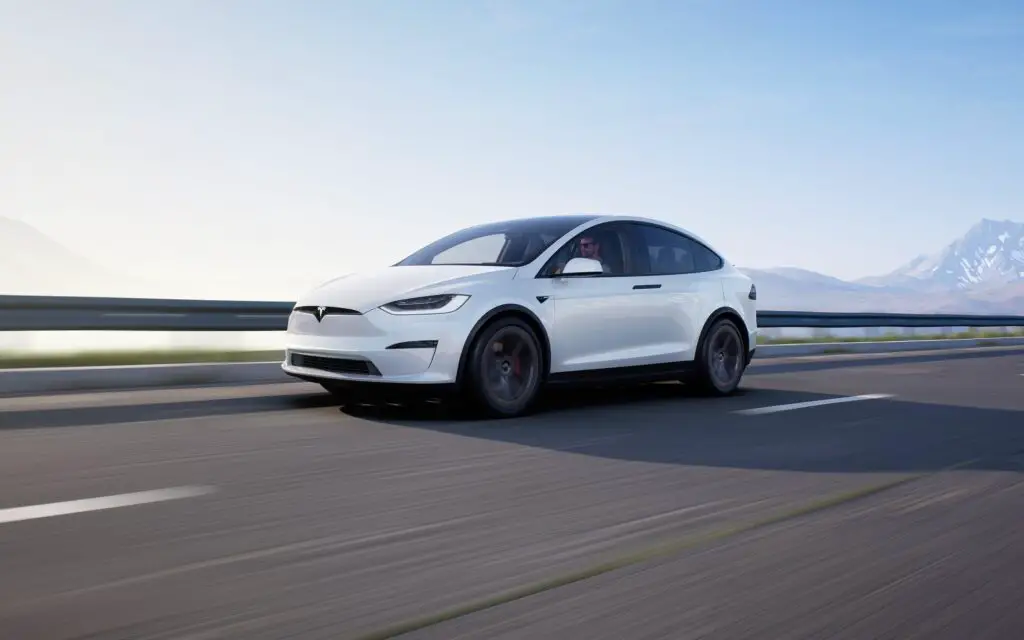 The selection of premium electric crossovers has grown and improved. Two X versions are available; the first is the dual-motor base SUV with a 348-mile EPA-rated driving range and 670 horsepower. Even while the performance-focused Plaid variant is more expensive and produces an impressive 1020 horsepower, it still has a range of up to 333 miles between charges.
Two electric motors, one at each axle of the front and rear wheels of the base Model X, are included as standard equipment to provide all-wheel drive.
When ordering the faster Plaid variant, the anticipated driving range is reduced to 333 miles from the Model X's average battery capacity of 348 miles. One of Tesla's Superchargers, spread out across the nation, may be quickly recharged.
The dashboard is dominated by a sizable touchscreen infotainment system that operates almost all of the Model X's features and settings. The gauge cluster is a supplemental digital readout in front of the driver.
7. Lucid Air Dream Edition (2.5 Seconds)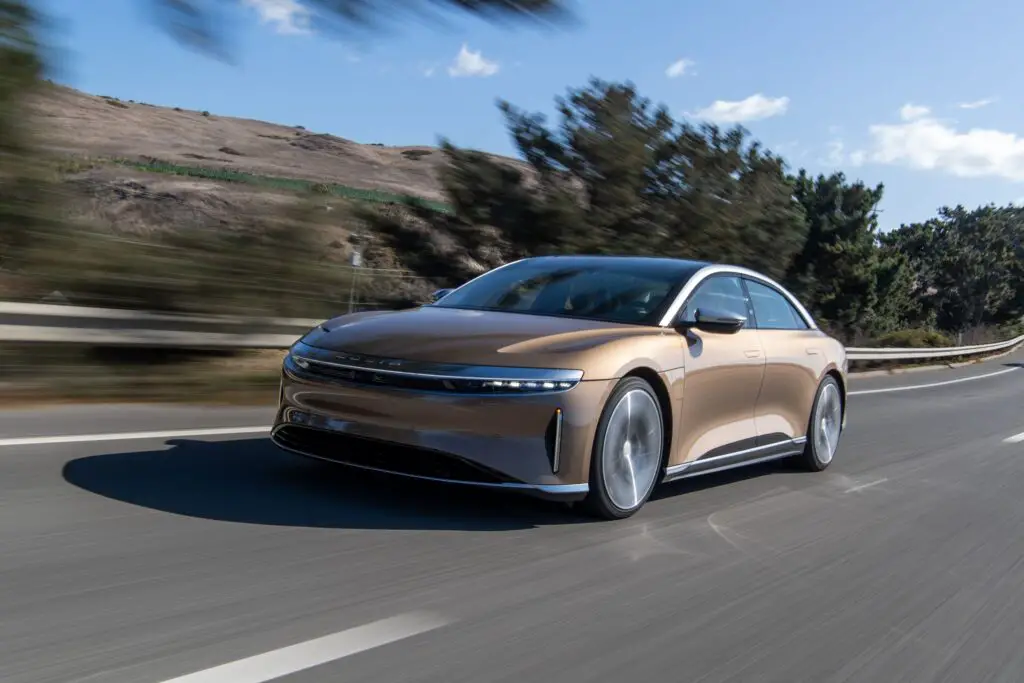 A real game-changer in electric luxury automobiles is the Lucid Air Dream Edition. This flagship model of the Lucid Air portfolio was created by the creative team at Lucid Motors and is making waves with its remarkable range, speed, and cutting-edge technology features.
With a top speed of nearly 217 mph, an astounding 1,080 horsepower, and 1,248 lb-ft of torque, the Lucid Air Dream Edition's dual-motor technology enables it to accelerate from 0 to 60 mph in under 2.5 seconds. No other electric vehicles on the market can equal this level of performance.
The level of luxury continues. The Lucid Air Dream Edition's interior is roomy and opulent, with seating for up to five passengers and a host of cutting-edge technological features like an active suspension system, a 34-inch curved glass cockpit display, and advanced driver support systems (ADAS).
6. Faraday Future FF91 (2.4 Seconds)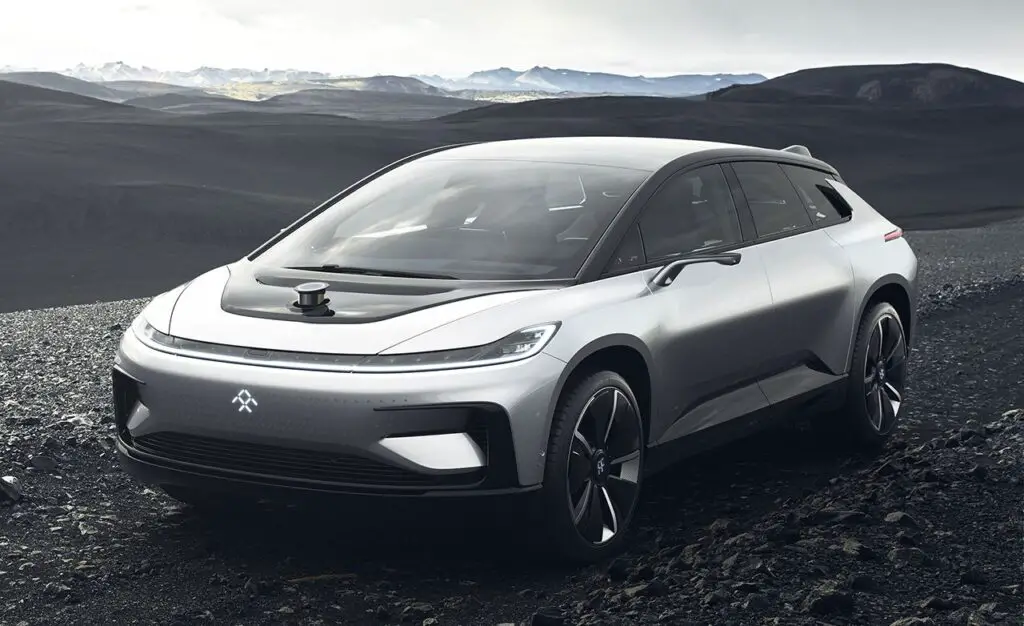 The FF 91 has a 381-mile range rating and is expected to go on sale in April 2023. This is more than the previous Faraday Future estimate of 378 miles. Still, the company also stated that the range statistic was obtained with a 142.0-kWh battery, as opposed to the FF 91's earlier claim that it used a 130.0-kWh battery. This surpasses the range of the Tesla Model X, which will be the FF 91's main competitor should they go into production.
The FF 91 is also known for its advanced technology features, such as a high-definition 3D LIDAR sensor system that enables the car to have level 4 autonomous driving capabilities. It also features a wide range of sensors and cameras that provide 360-degree monitoring of the car's environment.
The car's interior is also noteworthy, with a spacious cabin with a wide range of advanced technology features, such as a large touchscreen display and a fully digital driver display. It also features a unique "butterfly" door design that allows easy access to the car's interior.
Overall, the Faraday Future FF 91 is a high-performance electric luxury SUV designed to push the limits of what is possible with electric vehicles. Its impressive speed, advanced technology, and autonomous capabilities will appeal to luxury car buyers and technology enthusiasts alike.
5. Tesla Model S Plaid (1.9 Seconds)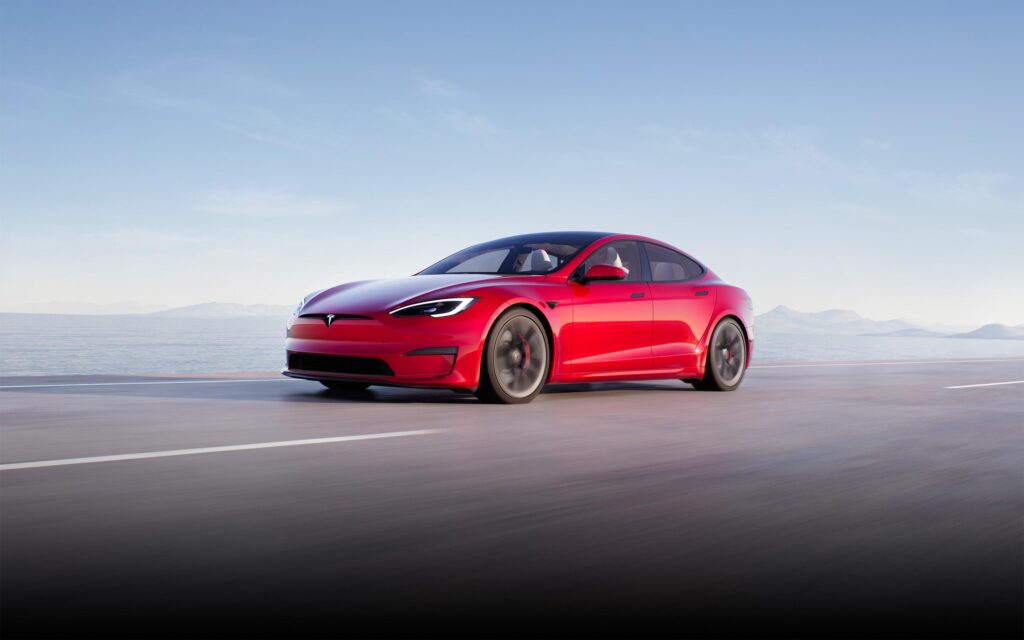 The vehicle that ignited the EV revolution is beginning to age. The sedan-like hatchback remains competitive even though the 2023 Tesla Model S lags behind recently developed competitors with more lavish amenities and longer driving distances. After all, a single charge of the Model S provides a range of up to 405 miles.
Additionally, the 1020 horsepower, three-motor Plaid performance model accelerates from 0 to 60 mph in under 1.9 seconds, surpassing the acceleration of high-end hypercars.
No matter which version you choose, the Model S boasts full-time all-wheel drive thanks to dedicated electric motors for the front and rear axles. The various versions' acceleration ranges from exceptional to astounding.
4. Tesla Roadster (1.9 Seconds)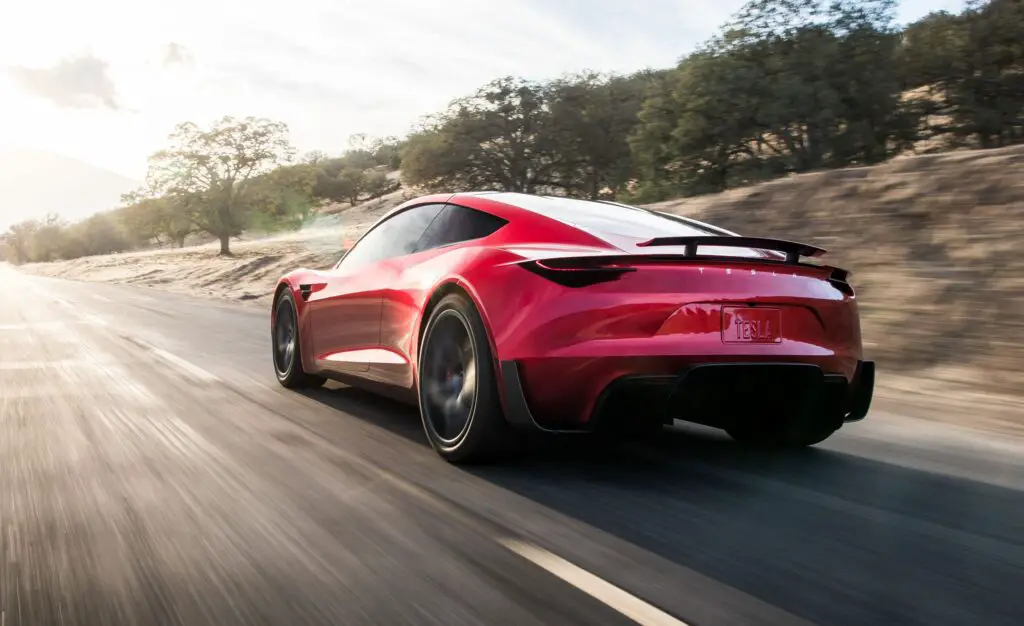 The Roadster boasts a sleek and aerodynamic design that incorporates several innovative features. It is powered by an all-electric powertrain that provides instant torque and a smooth, quiet ride. The car can accelerate from 0 to 60 mph in under 2 seconds, making it one of the fastest production cars in the world. With a range of 245 miles, the Roadster offers an impressive driving experience that is both environmentally friendly and fun.
The Roadster's cutting-edge technology is a big selling point. The car's climate, music, and navigation systems can all be managed through the car's 17-inch touchscreen interface. The Roadster is equipped with state-of-the-art security systems, including automated emergency braking and a forward-facing camera to ensure the safety of its occupants at all times.
3. Rimac Nevera (1.8 Seconds)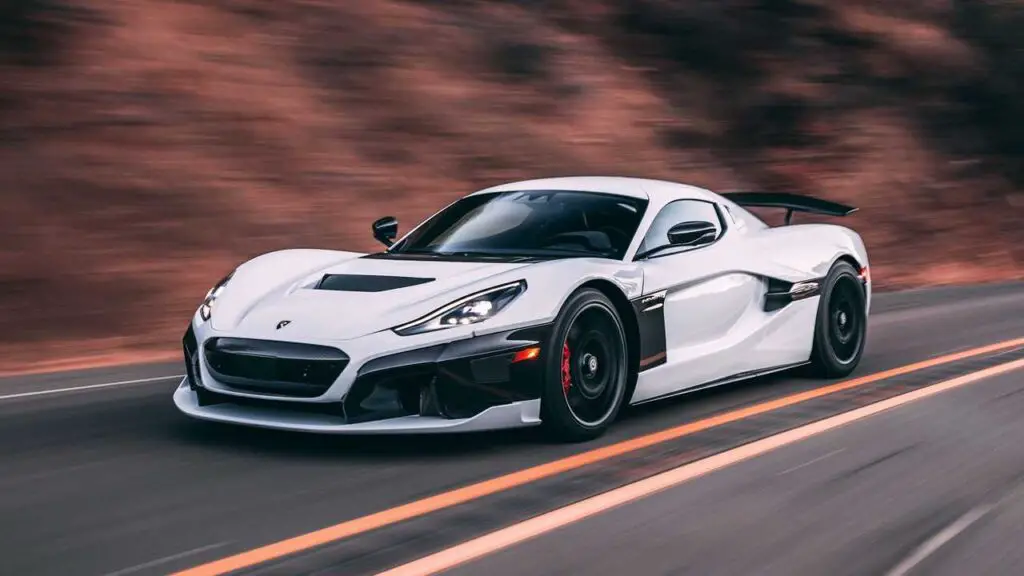 The Rimac Nevera has gained notoriety recently as a highly coveted electric supercar. Its exceptional performance capabilities, futuristic design, and cutting-edge technologies have attracted the attention of car enthusiasts worldwide.
The Nevera's 120 kWh lithium-ion battery pack and four electric motors, which provide 1,914 horsepower and 2,300 lb-ft of torque, enable it to accelerate from 0 to 60 mph in an astounding 1.85 seconds. It is currently one of the fastest mass-produced vehicles on the market.
The Rimac Nevera excels in terms of range. Its 120 kWh lithium-ion battery pack makes long-distance driving possible, allowing it to cover up to 340 miles on a single charge. And the Nevera's quick-charging features make it simple to recharge when the time comes. With a DC fast charger, you can quickly refuel from 0 to 80% charge in just 30 minutes.
Regarding acceleration and speed, the Nevera can compete with electric supercars like the Tesla Roadster and the Lucid Air. With 1,914 horsepower and 2,300 lb-ft of torque, it has exceptional acceleration and top speeds. It also boasts a sophisticated suspension system and an active roll stabilization system, making it simple to manage corners.
2. Pininfarina Battista (1.7 Seconds)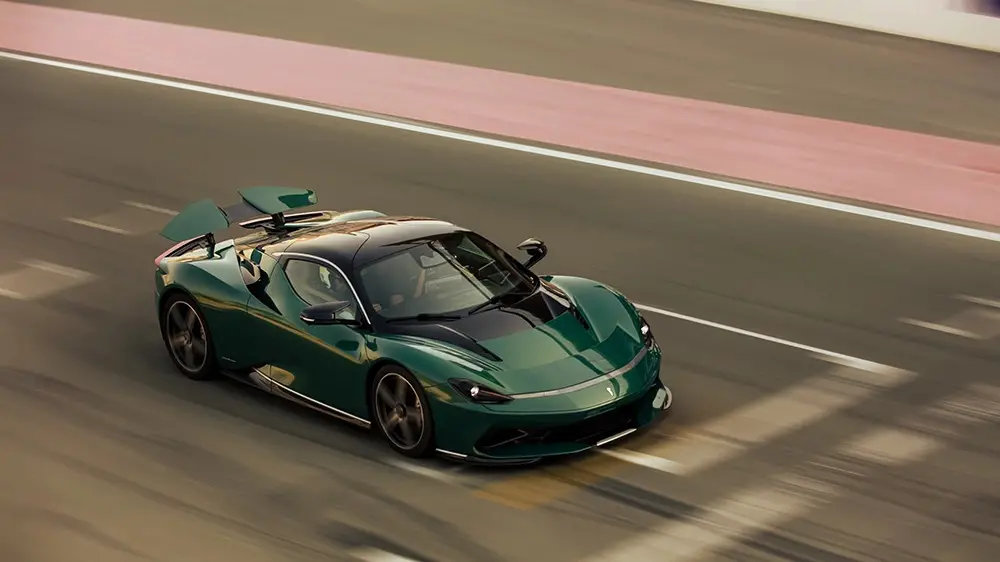 Pininfarina has established itself as a leader in style and elegance in the automotive industry. With roots dating back to 1930, this company has a long history of crafting some of the most iconic and beautiful cars the world has ever seen, such as the Ferrari Testarossa and the Alfa Romeo Spider.
The Pininfarina Battista is a true masterpiece of design, providing a visual experience like no other. Its sleek, aerodynamic exterior and luxurious, high-end interior showcase the exceptional design skills of Pininfarina. The Battista's aerodynamic shape minimizes drag and efficiency with sleek lines, aggressive curves, and a bold, sculpted, stylish, and functional form. The Battista easily cuts through the air, making it one of the fastest and most efficient hypercars on the road.
The Battista is equipped with a state-of-the-art electric drivetrain that offers unmatched performance. The Battista is one of the fastest hypercars available today, reaching a top speed of over 217 mph and a 0-60 mph time of under 2 seconds.
The electric drive system, which consists of four electric motors and has a combined output of 1,900 horsepower and 2,300 Nm of torque, is the engine of the Battista's powertrain. The Battista can sprint from 0 to 60 mph in a mind-blowing 1.9 seconds, thanks to this incredible power.
The electric drivetrain of the Pininfarina Battista is also very effective, providing a range of up to 280 miles on a single charge. The car has an intelligent battery management system that ensures the batteries are charged correctly and efficiently, and the regenerative braking technology contributes to an even longer range.
1. Aspark Owl (1.7 Seconds)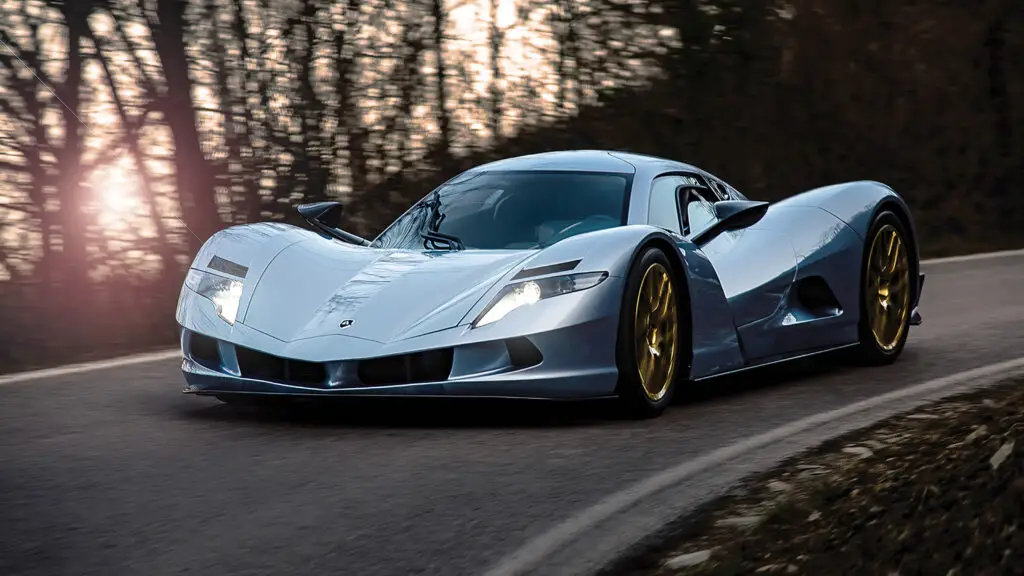 The hypercar brand Aspark, based in Japan, has released the Aspark Owl. While unveiling the final product specifications, Aspark claims that the Owl is the first fully electric hypercar.
Let's Examine some of the more notable criteria. The vehicle can go from 0 to 60 mph in 1.7 seconds and produces 1475 lb-ft of torque. The Aspark Owl is the first mass-produced model in the company's expensive hypercars. The combination of a 64 kWh lithium-ion battery pack powering four electric motors and torque vectoring results in an insanity output. To sum it all together, Owl guarantees a total of 280 miles. Amazingly, it can reach a staggering 249 miles per hour.
Fast vehicles may have trouble finding a convenient charging time. When charging slowly, the speed time is hidden. The Aspark Owl, thankfully, is not one of these. The lithium-ion battery is fully charged in just 80 minutes. There are future efficiency gains from this longer charging period.
Wrap Up
It's clear how far the electric car market has advanced in speed and performance. With many fantastic options, deciding on the fastest accelerating electric car can be difficult. However, we hope our top 10 list has got you covered in making such decisions.
These electric cars boast mind-blowing acceleration in seconds, from the sleek Lotus Evija to the awe-inspiring Rimac Nevera. Whether you're looking for a green mode of transportation for your daily commute or high-performance machines for track days, these vehicles are guaranteed to provide an adrenaline-pumping driving experience.