Mazda continues to captivate enthusiasts and casual drivers alike with its groundbreaking vehicles. One example of this is the Mazda CX-50, a crossover SUV that redefines excellence in automotive engineering. In this article, we will be focusing on the 2023 Mazda CX-50 review going into the intricacies of the Mazda CX-50, highlighting its key features, performance capabilities, and the driving experience it offers. By the time you finish reading, you'll understand why the Mazda CX-50 stands as a beacon of innovation in the automotive industry.
A Glimpse Into the Design
The Mazda CX-50's design is a testament to the brand's commitment to elegance and functionality. Its exterior possesses 1smooth, flowing lines that exude a sense of sophistication. The carefully sculpted body not only enhances aerodynamics but also contributes to fuel efficiency. The striking front grille, adorned with the iconic Mazda emblem, instantly captures attention, making a powerful first impression on anyone.
Performance Excellence
Engine Power and Efficiency
Under the hood, the Mazda CX-50 houses a state-of-the-art powertrain that combines power and efficiency seamlessly. The available engine options cater to a range of driving preferences, from the spirited adventurer to the eco-conscious commuter. The 2.5-liter turbocharged engine delivers an exhilarating 250 horsepower while maintaining impressive fuel efficiency, ensuring you experience both power and economy in every drive.
All-Wheel Drive Capabilities
Mazda's i-Activ AWD system sets the CX-50 apart from the competition. This intelligent system continually monitors driving conditions and adjusts power distribution to optimize traction and control. Whether you're navigating a rain-soaked urban street or venturing off the beaten path, the Mazda CX-50 provides unwavering confidence and stability.
Interior Luxury and Comfort
Ergonomic Cabin Design
Step inside the Mazda CX-50, and you'll find a meticulously crafted interior designed with the driver's comfort in mind. The ergonomically designed seats provide excellent support during long journeys, and the driver-centric cockpit layout ensures that all essential controls are within easy reach. Premium materials and refined finishes elevate the cabin's ambiance, creating a sense of opulence.
Infotainment and Connectivity
Modern life demands seamless connectivity, and the Mazda CX-50 delivers on this front. The intuitive infotainment system offers smartphone integration, allowing you to access your favorite apps, make hands-free calls, and enjoy a personalized entertainment experience. Stay informed and entertained on the road, all while keeping your focus on driving.
Advanced Safety Features
i-ACTIVSENSE Technology
Safety is paramount in the Mazda CX-50, and the i-ACTIVSENSE suite of advanced safety features reflects this commitment. With features like adaptive cruise control, lane departure warning, and blind-spot monitoring, the CX-50 actively assists you in staying safe on the road. It's like having an extra set of vigilant eyes, ensuring your peace of mind during every journey.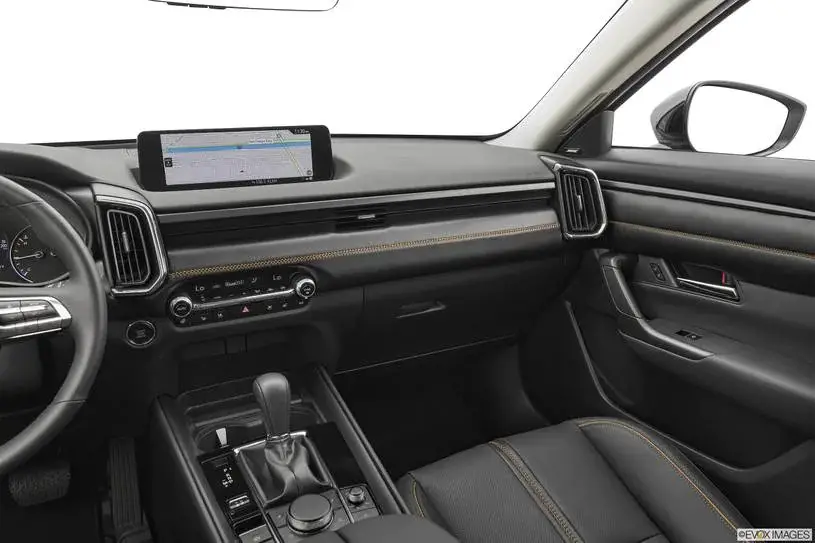 The Driving Experience
Driving the Mazda CX-50 is a sensory delight. Its precise steering and responsive handling make every curve in the road an opportunity to savor. Whether you're tackling challenging terrain or cruising down the highway, the CX-50's performance and handling will leave you impressed.
Pros and Cons of The 2023 Mazda CX-50
Pros
Good Handling
Quick Acceleration 
Decent Off-road Capability
Cons
Ride Capability Might Be a Little Stiff
Slightly More Expensive than It's Competition
Wrap Up
the Mazda CX-50 is a marvel of automotive innovation that seamlessly blends design, performance, luxury, and safety. Its ability to cater to a wide range of driving preferences makes it a versatile choice for today's discerning drivers. As you explore the details of this exceptional vehicle, it becomes clear that the Mazda CX-50 is not just a car; it's an experience waiting to be embraced. Discover the future of driving with the Mazda CX-50 – a true masterpiece in the world of automobiles.