Are you tired of struggling to see over the steering wheel or reach the pedals in your current car or SUV? If you're a petite driver, finding the perfect SUV can be a challenge. But fear not! In this ultimate guide, we will dive into the world of SUVs and explore the top choices for petite drivers like
yourself.
When it comes to SUVs, one size definitely does not fit all. That's why it's important to consider factors such as seat height, visibility, and adjustable features when searching for the perfect fit. We'll walk you through the models that prioritize these aspects, ensuring you can confidently take the wheel.
From compact crossovers to subcompact SUVs, we'll explore the top brands and their offerings tailored specifically for petite drivers. Whether you prioritize style, safety, or fuel efficiency, there's an SUV out there that meets your unique needs.
So, if you're ready to ride in comfort and style without compromising on safety, join us as we uncover the ultimate guide to SUVs for petite drivers. Get ready to find your perfect match on the road!
Challenges Faced By Petite Drivers
Being a petite driver comes with its own set of challenges. One of the most common issues faced bypetite drivers is seat height. Many SUVs have high seat positions, making it difficult for shorter individuals to see over the hood and get a clear view of the road ahead.
Additionally, reaching the pedals can be a struggle, as they are often designed for drivers with longer legs. These challenges not only affect comfort but also safety, as limited visibility can lead to accidents. In the next sectionI have some suggestions on how to mitigate or even eliminate some of the most common challenges petite people face when choosing which SUV to buy.
Key Factors To Consider When Choosing An SUV For Petite Drivers
When it comes to choosing an SUV as a petite driver, there are several key factors to consider.
Seat height adjustments are CRUCIAL allowing you to find the perfect position for optimal visibility. The perfect adjustment will give you more control over your SUV,eliminate blind spots, minimize fatigue, and in the event of an accident, (GOD FORBID) will lessen the risk of injury should the airbag deploy. Finally, SUV's that offer height and adjustability controls electronically will give you the best chance to reach that optimal driving position.
Adjustable Pedals: Obviously, the major advantage of this option is making it easier to reach and operate the brake and accelerator pedals comfortably.
Safety is paramount when driving. Adjustable pedals can help shorter individuals maintain proper pedal control, reducing the chances of accidental pedal misapplication, which could lead to sudden acceleration or braking.
Versatility: If multiple people of varying heights drive the same vehicle, adjustable pedals offer versatility. Each driver can adjust the pedals to their preferred settings quickly, enhancing their driving experience and safety.
Size and shape of the steering wheel: A smaller, more ergonomic steering wheel can enhance control and maneuverability for petite drivers. They allow for more precise and effortless steering adjustments, which is advantageous when navigating through tight spaces, parking in confined areas, or executing quick maneuvers to avoid obstacles.
Many SUV's now offer adjustable steering columns, allowing drivers to finetune the position of the steering wheel to their liking. This customization ensures that petite drivers can set the steering wheel at an ideal height and distance from their body, even further enhancing comfort and control.
Best SUV Models For Petite Drivers
Now that we've discussed the challenges and key factors, let's dive into the best SUV models for petite drivers:
#1: 2023 Mazda CX-50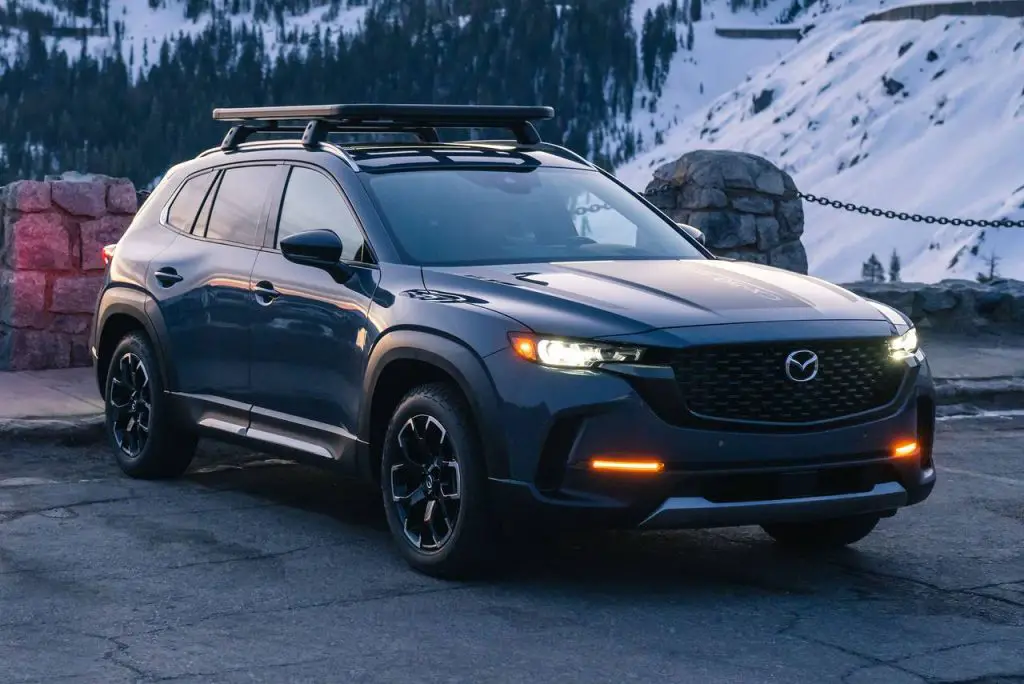 The Mazda CX-50 offers an exceptional driving experience that sets it apart from its competitors. Its comfortable and spacious interior provides a sense of luxury that is rare in its class. The attention to detail in the design and materials used gives the cabin a premium feel, making it stand out among its peers.
One of the standout features of the CX-50 is its engaging handling. It's a fun-to-drive vehicle that offers a level of agility that makes daily commutes enjoyable. While the steering may feel a bit heavy to some, it adds to the car's sporty character. The firmer ride might be a drawback for those who prioritize comfort, but it's a trade-off for the dynamic driving experience this Mazda offers.
Despite the premium price tag, the Mazda CX-50 justifies its cost with its overall quality and performance. If you're in the market for a small utility vehicle that combines comfort, style, and driving pleasure, the CX-50 should be at the top of your list. It's a vehicle that doesn't compromise on luxury or performance, making it an excellent choice for those who want the best in this class.
#2: 2024 Honda CR-V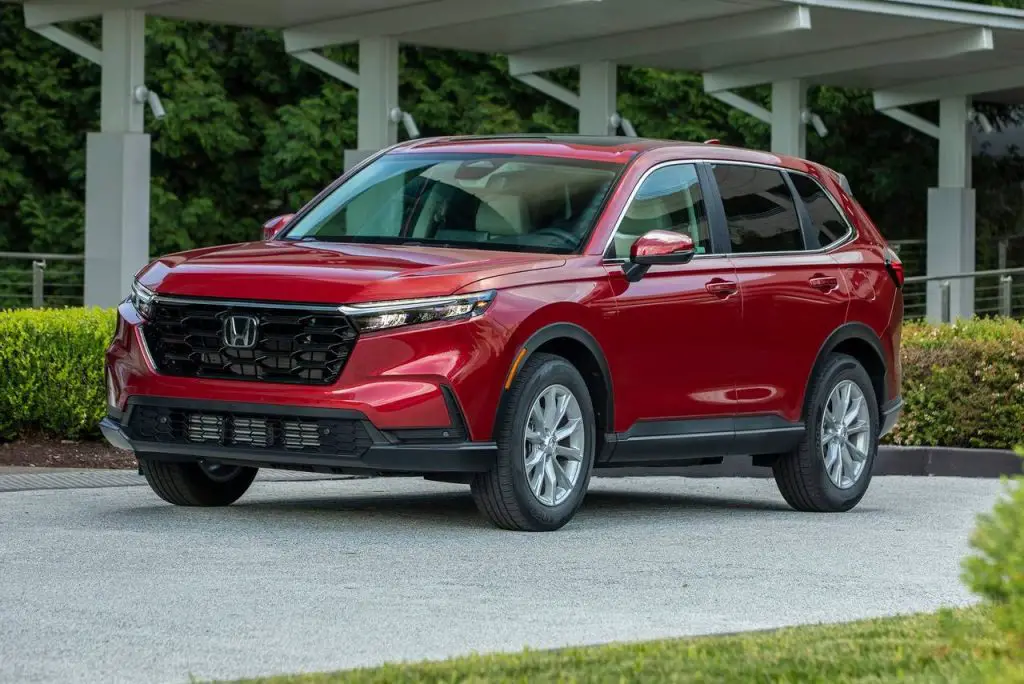 The Honda CR-V has long been a favorite among families, and its latest version continues to uphold its reputation as a benchmark small SUV. With a smooth ride, an array of helpful tech features, and generous storage space, it remains a solid choice for those seeking practicality and comfort. However, in a market where competitors have made substantial improvements, the CR-V no longer stands as the undisputed leader.
One of the standout features of the Honda CR-V is its smooth and comfortable ride. Whether navigating through city streets or embarking on a cross-country road trip, passengers can expect a pleasant and quiet journey. The suspension system absorbs bumps and imperfections with ease, providing a plush experience that rivals luxury SUVs.
Moreover, the CR-V impresses with its tech-savvy offerings. The infotainment system is intuitive and responsive, with a user-friendly interface that allows for seamless smartphone integration. Families will appreciate the array of safety features, including adaptive cruise control and lane-keeping assist, which add an extra layer of security during long drives.
#3: 2023 Mazda CX-5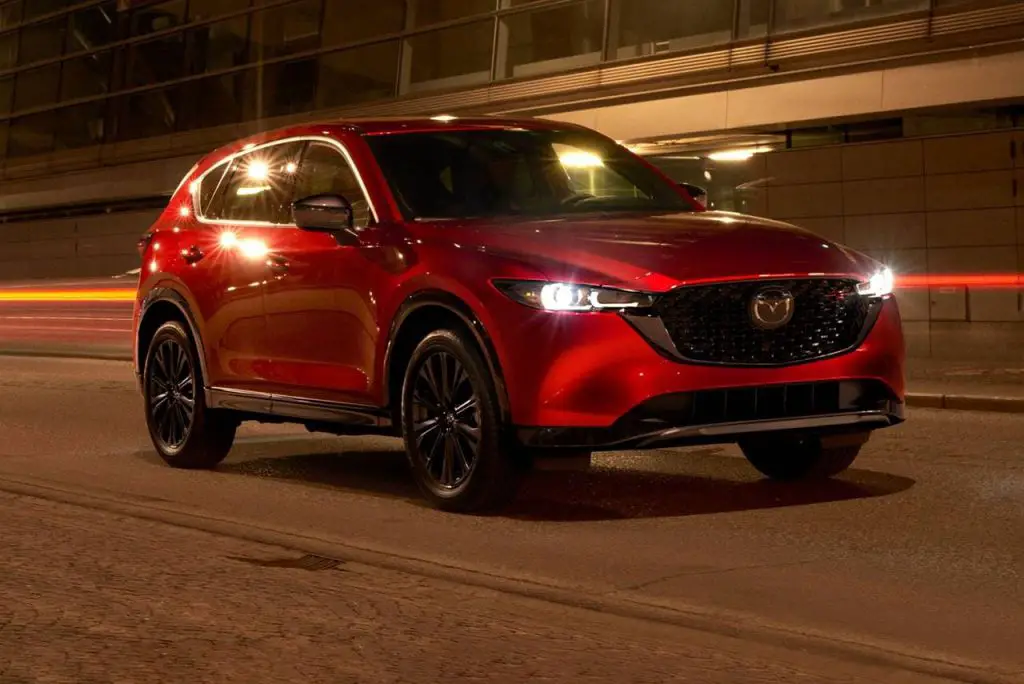 The 2023 Mazda CX-5 is truly a standout in the world of small SUVs. With a price range starting at $26,700, it manages to offer exceptional value without compromising on quality. The interior of this SUV is a testament to Mazda's commitment to excellence, boasting top-notch materials and an attention to detail that's hard to beat. When it comes to handling, the CX-5 shines, providing a smooth and responsive ride that makes every journey enjoyable.
While the CX-5 excels in many areas, there are a few areas where it falls slightly short. Rear passenger space could be more generous, and the cargo capacity may not be as expansive as some competitors. Additionally, for those prioritizing fuel efficiency, there are more economical options out there. However, these minor drawbacks pale in comparison to the overall package that the CX-5 delivers. It's a vehicle that offers a winning combination of style, performance, and affordability, making it a top choice in its class.
In summary, the 2023 Mazda CX-5 is a remarkable small SUV that deserves serious consideration. With a starting price ranging from $26,700 to $39,650, it offers a compelling proposition for those in the market for an SUV that blends quality, handling, and affordability. While it may not be the most spacious or fuel-efficient option, its high-quality interior and sharp handling more than make up for these minor shortcomings. The CX-5 is a testament to Mazda's commitment to crafting outstanding vehicles, and it certainly lives up to the brand's reputation.
#4: 2023 Subaru Forester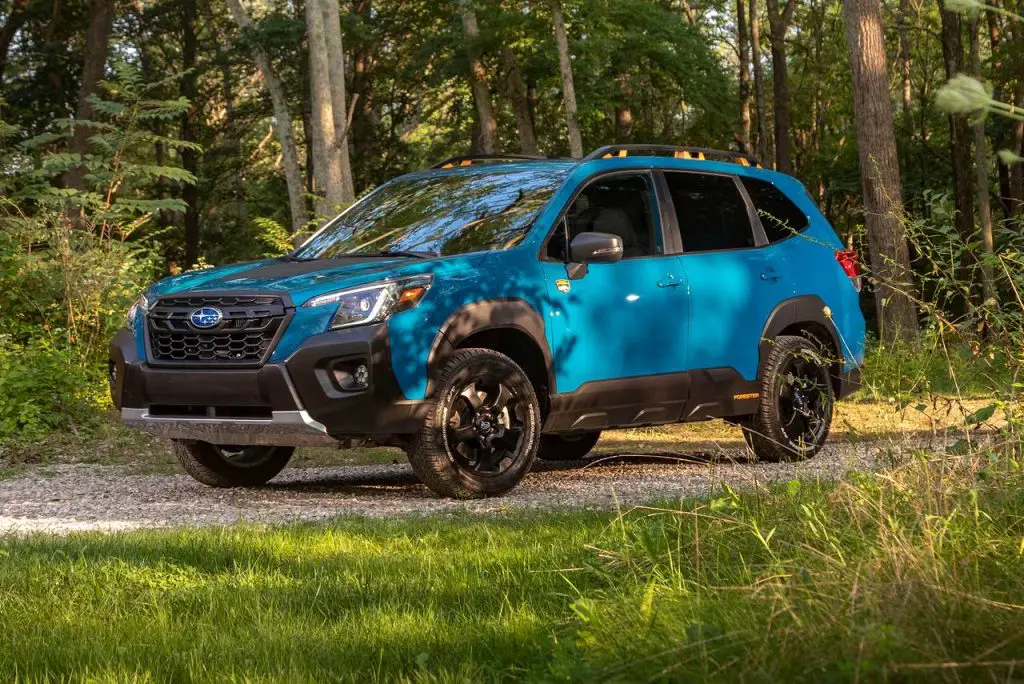 The 2023 Subaru Forester is a standout crossover SUV that effortlessly combines rugged performance with comfort and value. Despite its lackluster acceleration, it earns high marks for its overall appeal. With a starting price range of $26,395 to $36,795, the Forester offers a lot of bang for your buck, making it an attractive choice for budget-conscious buyers.
One of the most striking features of the 2023 Subaru Forester is its rugged attitude. Whether you're navigating city streets or venturing off-road, this SUV is up to the task. Its sturdy construction and all-wheel-drive capability provide confidence-inspiring traction and control. The exterior design exudes a sense of adventure, making it a stylish choice for those who appreciate the great outdoors.
Inside the cabin, the Forester doesn't disappoint. It offers a comfortable and well-appointed interior that rivals more expensive competitors. The spacious seating and user-friendly infotainment system enhance the overall driving experience. Additionally, the Forester comes loaded with features that are often optional in other vehicles, making it a practical choice for families and adventure-seekers alike.
#5: 2023 Kia Sportage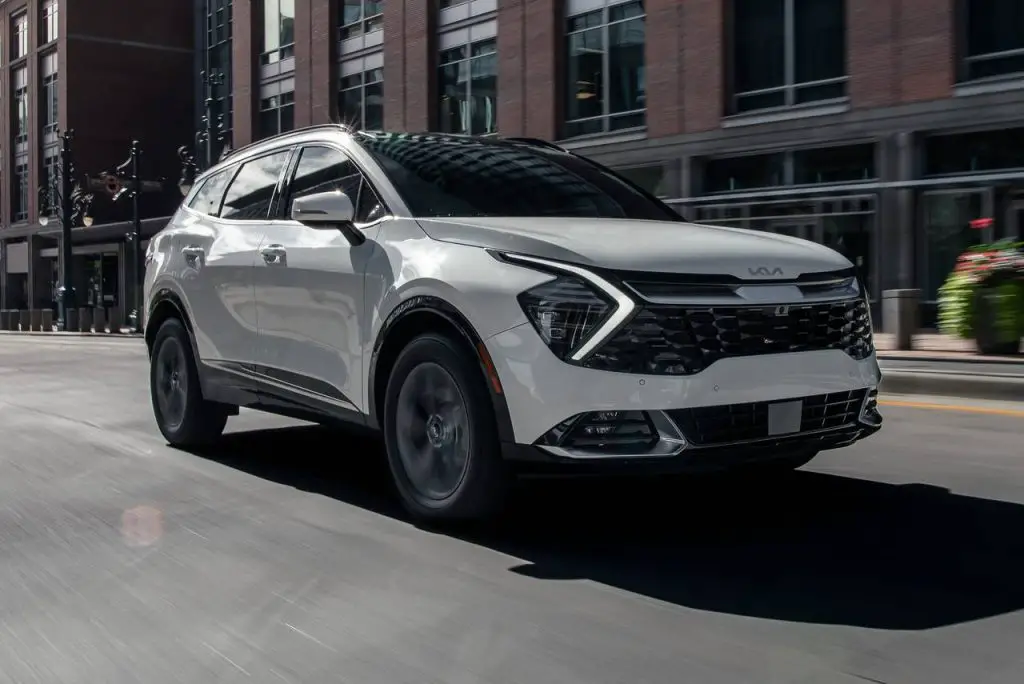 The Kia Sportage is a remarkable choice for those seeking a well-rounded SUV. It truly shines in terms of comfort, offering passengers a smooth and enjoyable ride. The spacious seating ensures that even long journeys are a breeze, with ample room to stretch out and relax. Moreover, the Kia Sportage boasts a cavernous rear cargo area, making it perfect for hauling groceries, luggage, or even sports equipment.
One of the standout features of the Sportage is its impressive technology suite. The inclusion of advanced driver aids not only enhances safety but also provides a modern and convenient driving experience. From adaptive cruise control to lane-keeping assist, this SUV keeps you well-connected and secure on the road. These technological enhancements add an extra layer of appeal to an already enticing vehicle.
While the Kia Sportage boasts numerous merits, it's important to acknowledge its drawbacks. The most notable among them is its sluggish acceleration. Although it excels in comfort and technology, the Sportage may leave some drivers wanting more power during acceleration. Additionally, its fuel economy falls short of the class leaders, which might be a concern for those looking to minimize their environmental impact and save on fuel costs.
#6: 2023 Hyundai Tucson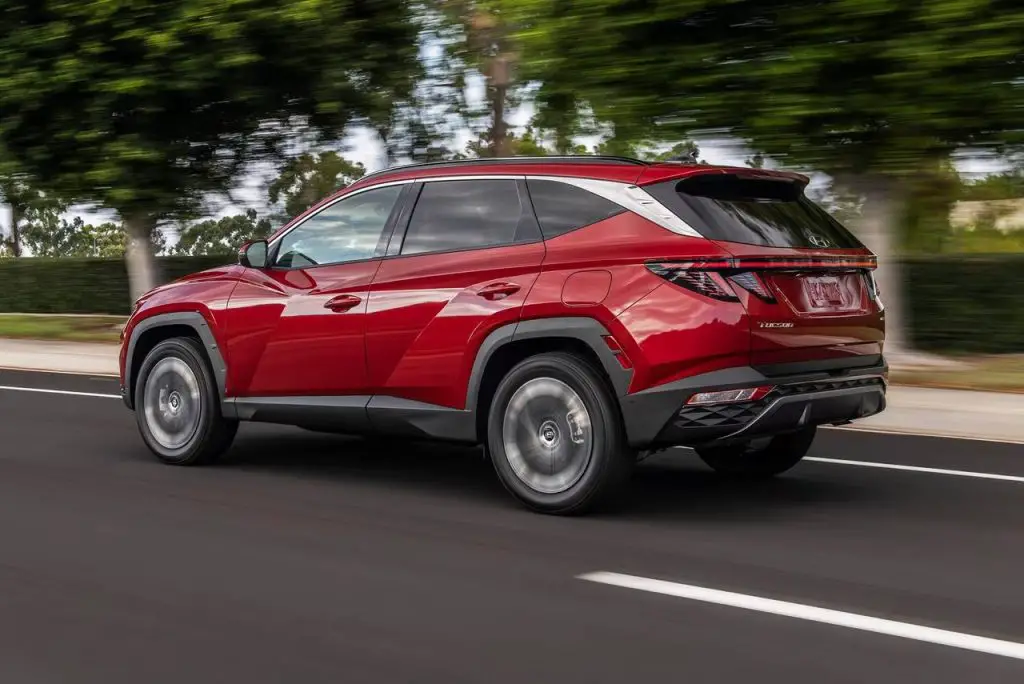 The 2023 Hyundai Tucson is a remarkable vehicle that offers impressive value for its price range, falling between $26,900 and $39,110. This SUV stands out for its blend of comfort and advanced technology features, making it an appealing choice for potential buyers. One can't help but appreciate the well-designed and upscale cabin, as well as the generous cargo space it offers. However, there's one notable drawback – the engine's performance falls short, struggling to keep up with faster traffic. Nevertheless, the Hyundai Tucson emerges as a considerate option within the compact SUV category.
The Hyundai Tucson's pricing, starting at a reasonable MSRP, makes it a cost-effective choice for those looking for a capable SUV without breaking the bank. The vehicle doesn't compromise on quality, offering an impressive array of features for its price point. Inside, the cabin exudes an upscale feel with premium materials and a thoughtfully designed layout. The spacious cargo area adds to its practicality, making it suitable for families or individuals with active lifestyles.
While the Tucson excels in many areas, it does have a noticeable drawback in its engine's performance. The engine tends to feel sluggish when accelerating, which can be a minor inconvenience during highway driving. However, for those primarily seeking a comfortable daily driver with ample cargo space and advanced technology, the Hyundai Tucson remains a strong contender in the competitive small SUV segment.
#7: 2023 Nissan Rogue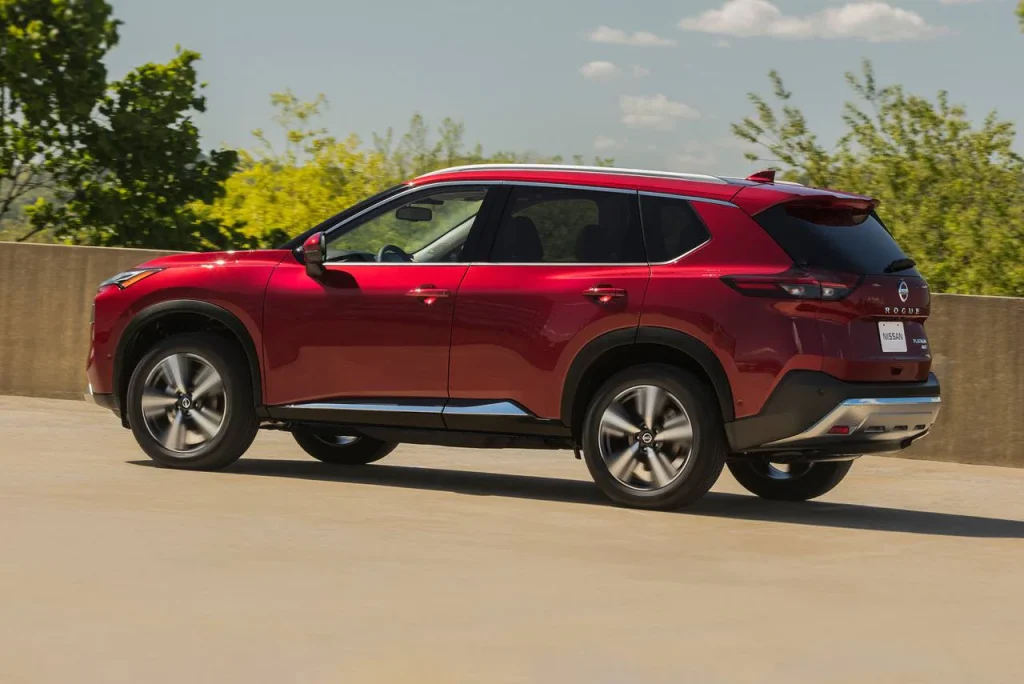 The latest iteration of the Nissan Rogue undoubtedly represents a significant step forward in the world of compact SUVs. It boasts a practical design that caters to the needs of modern drivers, combining fuel efficiency with a generous array of standard features and driver aids. In essence, it serves as a dependable and versatile all-rounder, ready to tackle a variety of tasks with ease.
One of the standout qualities of the new Nissan Rogue is its impressive fuel efficiency, making it an economical choice for those conscious of their budget. The inclusion of a comprehensive suite of driver aids adds an extra layer of safety and convenience to the driving experience. However, it's essential to note that compared to some of its competitors in the small SUV category, the Rogue falls short in a couple of areas.
Regrettably, the Rogue exhibits more cabin noise than one would hope for in a vehicle of this class, potentially disrupting the tranquility of the driving environment. Moreover, its ride quality, while acceptable, lacks the refinement found in some rival SUVs. Additionally, the infotainment system appears somewhat outdated when compared to the latest technological advancements in the automotive industry
#8: 2023 Jeep Wrangler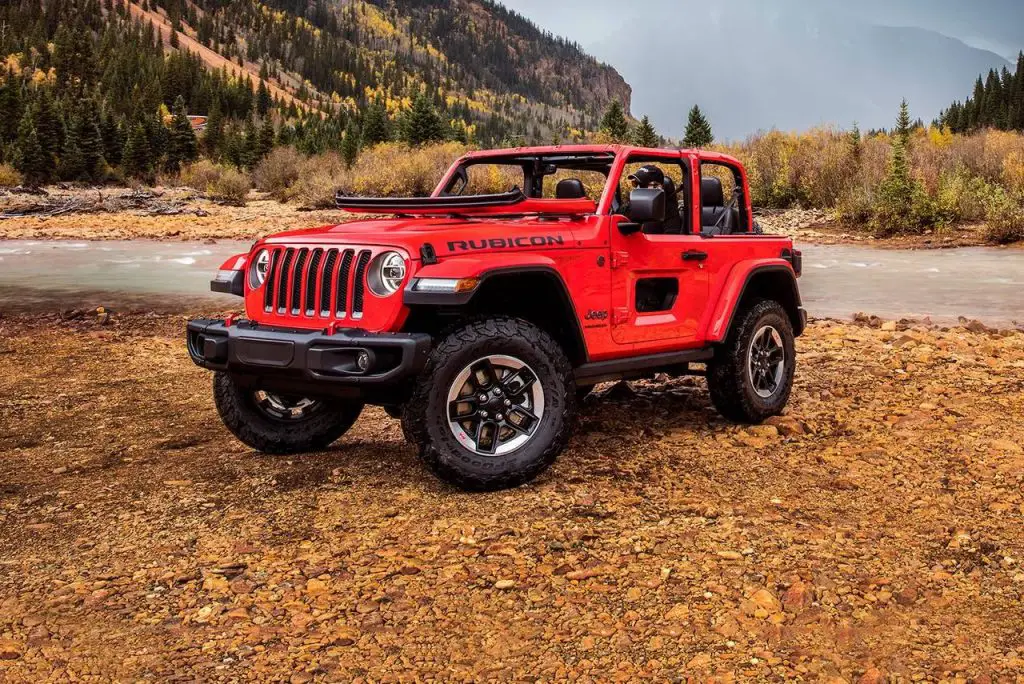 The Wrangler, with its unmistakable personality, is a true delight to drive. Its rugged charm and off-road prowess are simply unbeatable. The Wrangler offers an experience like no other SUV on the market.
When behind the wheel, the Wrangler provides an exhilarating and visceral driving experience. Its powerful engine and responsive acceleration make every journey an adventure. The off-road capabilities are where this SUV truly shines. Whether it's conquering rocky terrain or navigating through deep mud, the Wrangler takes it all in stride.
However, it's essential to note that the Wrangler's off-road focus does come at a cost. The steering can feel a bit heavy, and the handling might not be as precise as some would prefer on city streets. Ride quality can also be a bit bumpy on rough roads.
#9: 2023 Toyota RAV4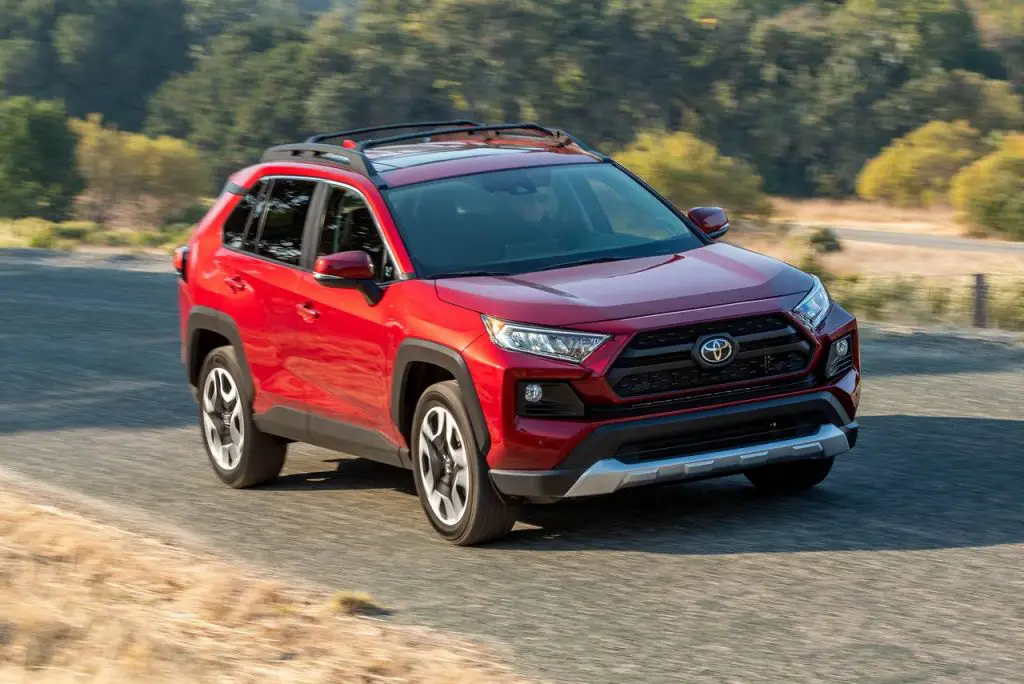 The 2023 Toyota RAV4 is a practical choice for those seeking a reliable and spacious SUV. With an MSRP range starting at $28,275, it offers excellent value for its price point. This SUV boasts a smooth ride and a roomy interior, making it a comfortable companion for daily commuting and road trips alike. Its confident braking and handling, combined with impressive fuel efficiency, ensure a pleasant driving experience.
One of the standout features of the 2023 RAV4 is its spacious interior. Whether you're carting around family, friends, or cargo, there's ample room to accommodate your needs. The SUV's user-friendly design adds to its appeal, making it easy to live with on a day-to-day basis. However, it's important to note that the engine's performance is merely satisfactory, and the steering leaves something to be desired. While these aspects may not make it the top choice for those seeking a small SUV with exhilarating performance, the overall package of comfort and utility more than compensates for these minor shortcomings.
#10: 2023 Ford Escape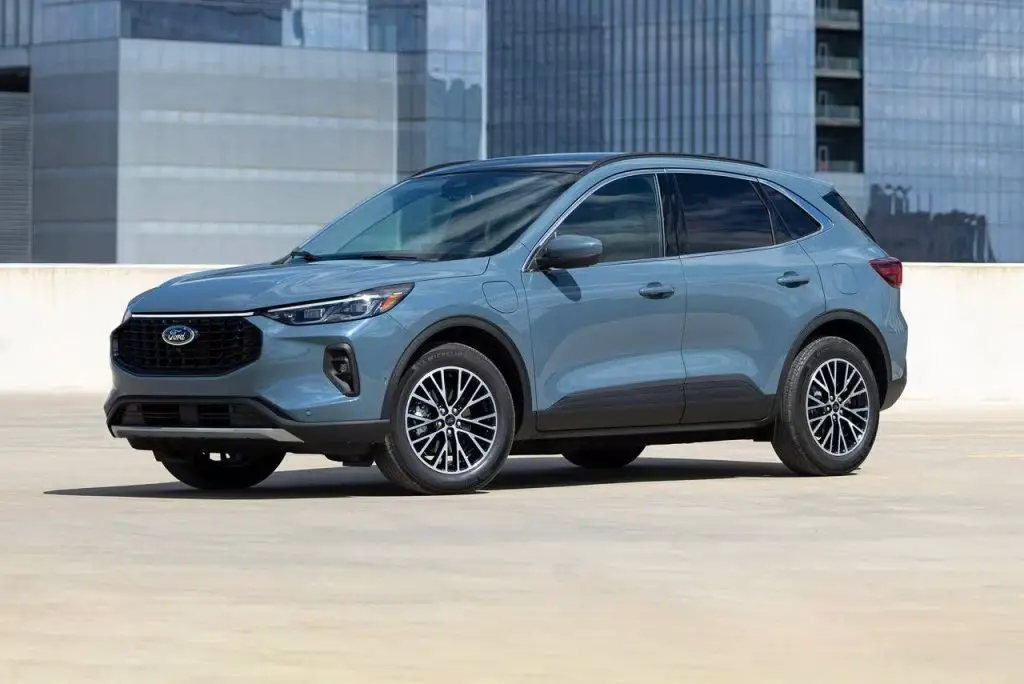 The 2023 Ford Escape Plug-In Hybrid 4dr SUV is a solid option for those in the market for a small SUV. With a price range that starts at $28,000 and goes up to $40,500, it offers good value for money.
One of the standout features of the 2023 Ford Escape Plug-In Hybrid is its spacious cabin. It provides ample room for both the driver and passengers, ensuring a comfortable ride even on long journeys. The seats are exceptionally comfortable, making it a pleasure to sit in for extended periods. Moreover, the inclusion of advanced technology features enhances the driving experience, providing convenience and entertainment for all occupants.
While the Escape excels in many areas, it does have a few drawbacks to consider. Some drivers may find the transmission shifting to be less refined than expected, which can affect the overall driving experience. Additionally, the handling precision could be improved, especially when compared to some of its competitors in the small SUV segment.
Features and Technologies That Are Beneficial for Petite Drivers
In addition to the right model, certain features and technologies can greatly benefit petite drivers. One such feature is a rearview camera, which provides a clear view of the area behind the vehicle, making parking and maneuvering easier.
Blind-spot monitoring systems are also essential, as they alert the driver to vehicles in their blind spots, reducing the risk of accidents. Additionally, adjustable lumbar support and seat heating can enhance comfort during long drives.
Tips for Test Driving and Evaluating SUVs
When test driving SUVs as a petite driver, there are a few tips to keep in mind. Firstly, ensure that you can comfortably reach the pedals and have a clear view of the road. Take note of any blind spots or areas where visibility is limited. Test the adjustability of the seats, steering wheel, and pedals to find the optimal driving position. Pay attention to the ease of use of the controls and the overall comfort of the cabin. Finally, take the SUV for a spin in different driving conditions to assess its performance and handling.
Wrap Up
Finding the perfect SUV as a petite driver may seem challenging, but with the right knowledge and considerations, it's absolutely achievable. By prioritizing factors such as seat height adjustability, visibility, and ergonomic features, you can confidently take the wheel and enjoy the comfort, style, and safety that SUVs have to offer.
Remember to test drive multiple models, explore various accessories and modifications, and prioritize safety in your decision-making process. With the ultimate guide to SUVs for petite drivers, you're well on your way to finding the perfect fit on the road.
Happy driving!