Over the past few decades, pickup trucks have taken a more interesting role, much to the excitement of pickup truck enthusiasts. Back when pickup trucks were first introduced, people viewed them as vehicles that could only be used for agricultural and commercial purposes, and rightly so. They fulfilled those roles so well that people began to wonder if they could be used for much more than what they were used for. Many decades later, we now have pickup trucks that have proved to be game-changers in the automotive industry and one of the best-selling vehicle types in the United States and other countries across the globe.
Seeing pickup trucks evolve into what they are today is what many had foreseen. They knew a time would come when people would begin to see pickup trucks as vehicles that could do much more than what they were being used for. The issue back when trucks were first introduced was that people needed to see how their functionalities could be fully maximized, limiting them to, again, just commercial and agricultural purposes. Times have changed, and things have improved greatly, thanks to technology. Today, we now have pickup trucks that are much more functional than the ones that existed decades ago.
Pickup trucks are changing the automotive industry, and they're doing it at a fast pace. Who would have thought that manufacturers could combine their strengths with the newest technologies today to make pickups one of the highest-selling vehicle types in the world? Introducing hybrid pickup trucks into the market undoubtedly raised the bar and changed how pickup trucks were generally viewed. The successful transition from gasoline to electric power is also enough to prove that the functionality of the pickup truck knows no boundaries.
Below is our 2022 list of the best hybrid pickup trucks you can pick up today at zero miles.
1. 2022 Toyota Tundra Hybrid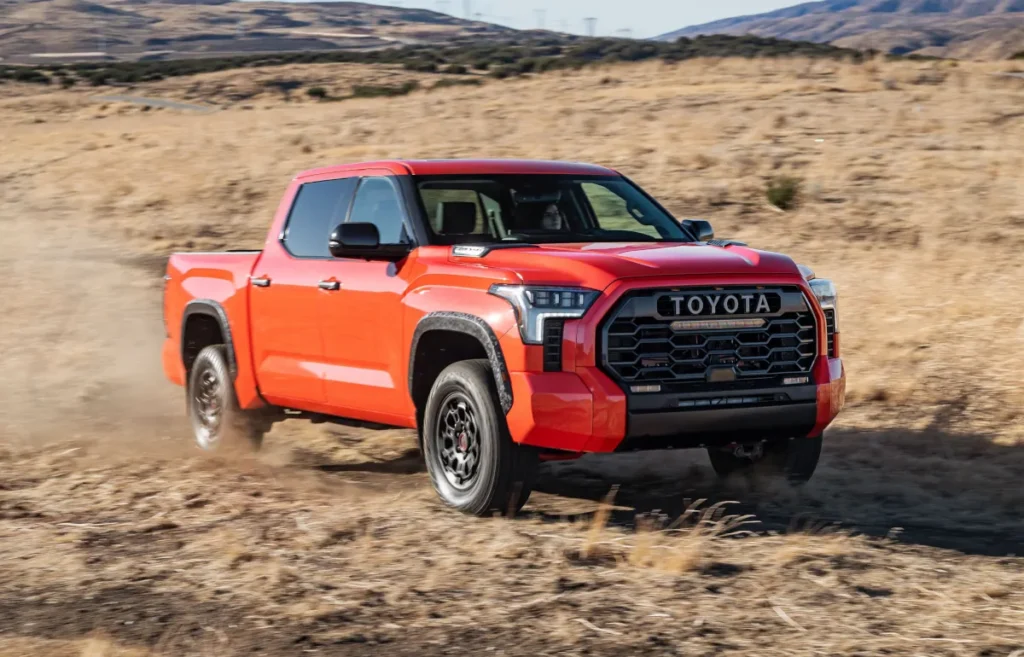 Japanese multinational automotive manufacturer, Toyota, has always prioritized strength, reliability, and dependability. These three elements are implemented in the 2022 Toyota Tundra with a hybrid engine and berserk performance stats. Pickup trucks are not usually judged by how fast they can go but by their strength and capability. Like its predecessors, such as the '90s FJ, '80s 4Runner, and the Baja Truck, the 2022 Toyota Tundra symbolizes strength and capability.
Interior
Pickup trucks were not always popular for their interior designs, but Toyota has proved otherwise with the aesthetics of the 2022 Tundra. If you invest in the Tundra's premium interior features, you'll have access to the available soft-touch materials, heated/ventilated front seats, and leather-trimmed materials for maximum comfort. The Tundra also features a panoramic moonroof that can be accessed with the push of a button.
Available Trims
The 2022 Toyota Tundra Hybrid comes in TRD Pro, and Capstone trims. The Tundra TRD Pro is specially designed for off-road use, while the Capstone is the top-of-the-line variant that comes fully loaded with all the extra gizmos and additional luxury features that sets it apart from the rest of the trims. The TRD Pro and Capstone trims feature the same drivetrain, performance, and configuration.
The TRD Pro comes with 18-inch BBS forged aluminum wheels with Falken WILDPEAK all-terrain tires, Multi-Terrain Select with Crawl Control, an off-road suspension with FOX shocks, Electronically controlled locking rear differential, and Toyota Safety Sense, among other features. The Capstone trim, on the other hand, features 22-inch dark chrome and machined-finish alloy wheels, Semi-aniline leather-trimmed 10-way power-adjustable front seats, Two-tone white-and-black interior with dark American walnut wood-grain trim, 10-inch color Head-Up Display, Power running boards, and BedStep, Available Adaptive Variable Suspension, Toyota Safety Sense, among other features.
Toyota has yet to confirm how much these Tundra trims will sell for, but the TRD Pro is expected to sell for around $57,000 USD, while the Capstone is likely to sell for approximately $62,000 USD.
Performance
The 2022 Tundra Hybrid pickup is powered by an i-FORCE MAX 3.5-Liter Twin-Turbo V6 Hybrid Engine that delivers 437 horsepower and 583 pound-feet of torque. With its rugged look, you'd think the powerful pickup truck is made from heavy materials, but the reverse is the case. The vehicle is made with lightweight materials to help keep the weight down. Despite that, the 2022 Tundra has a maximum towing capacity of 12,000 pounds.
Safety Features
The 2022 Toyota Tundra has many safety features, but the most eye-catching one would be the Blind Spot Monitor with Trailer Merge Warning, which will help warn you when a vehicle in the next lane occupies your blind spot on either side of your truck.
2. 2022 Ford Maverick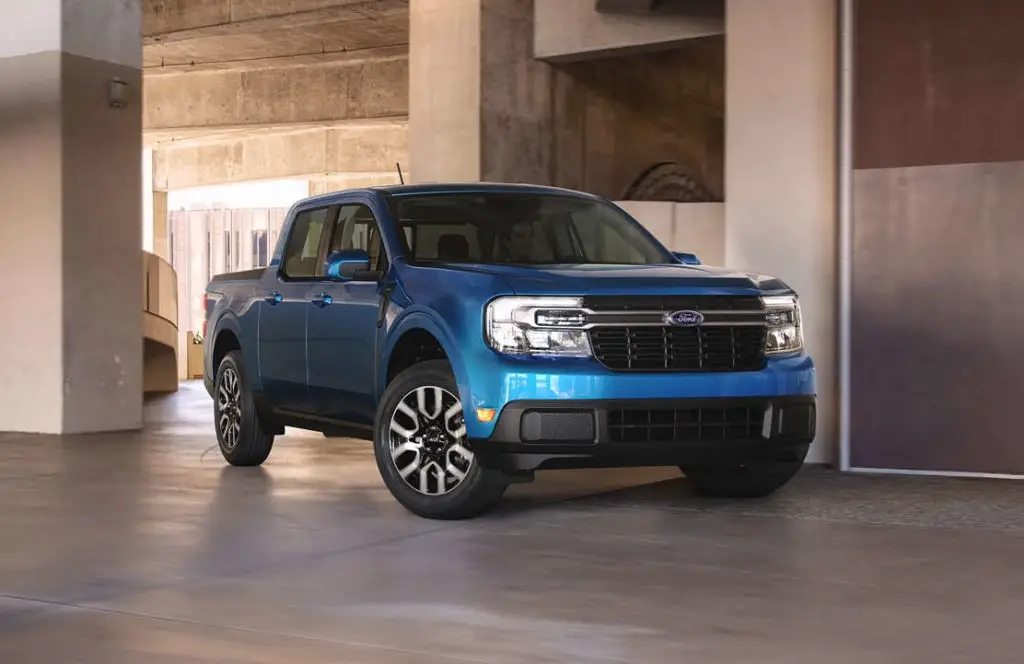 Ford is one of the few automotive manufacturers pushing for all-electric vehicles in the future. Earlier last year, it was announced that Ford was planning to invest $30 billion to make that dream come true. Apart from the apparent financial investment, introducing the new Maverick to provide direct competition with some of the best market pickups proved how seriously Ford was about positively impacting electrification.
Interior
"Compact on the outside, spacious on the inside," that's the description Ford has given to the 2022 Maverick, and seeing the Maverick, that claim is rightly justified. The Maverick can comfortably accommodate five passengers, and there's legroom for everyone thanks to its transformative unibody design. The base model, XL, comes with a 4.2-inch instrument cluster screen, cloth bucket seats, a rear-view camera, two 12 volts powerpoints, and a rotary gear shift. If you opt for the XLT, you'll have access to the Navy Pier and Medium State interior with orange highlights.
Available Trims
If you're looking to get the 2022 Maverick, it is currently available in three trims; XL, XLT, and the Lariat. All the trims come as front-wheel drive and can be upgraded to all-wheel drive. The most expensive of all the trims is the Lariat, as expected, and it costs around $25,490 USD. Starting price for the XL trim is $19,995 USD, while the XLT costs $22,280 USD.
Performance
The 2022 Ford Maverick is a compact hybrid pickup truck geared towards entry-level customers who want the truck lifestyle but with the ease of navigating and parking in tight urban centers. Hence it can't exactly compete with some of the strongest pickup trucks in the world. The pickup features a 2.5-liter full-hybrid engine with a continuously variable transmission to produce 250 horsepower and 277 lb-ft of torque. If you want something more powerful, an optional 2.0-liter EcoBoost engine can tow up to 4000 pounds, unlike the 2.5-liter engine that can only tow up to 2000 pounds.
Safety Features
The safety features you'll enjoy with the 2022 Ford Maverick include Driver-assist Technology, Auto High-Beam Headlamps, Pedestrian Detection, Forward Collision Warning with Dynamic Brake Support, and many others.
3. 2022 Ram 1500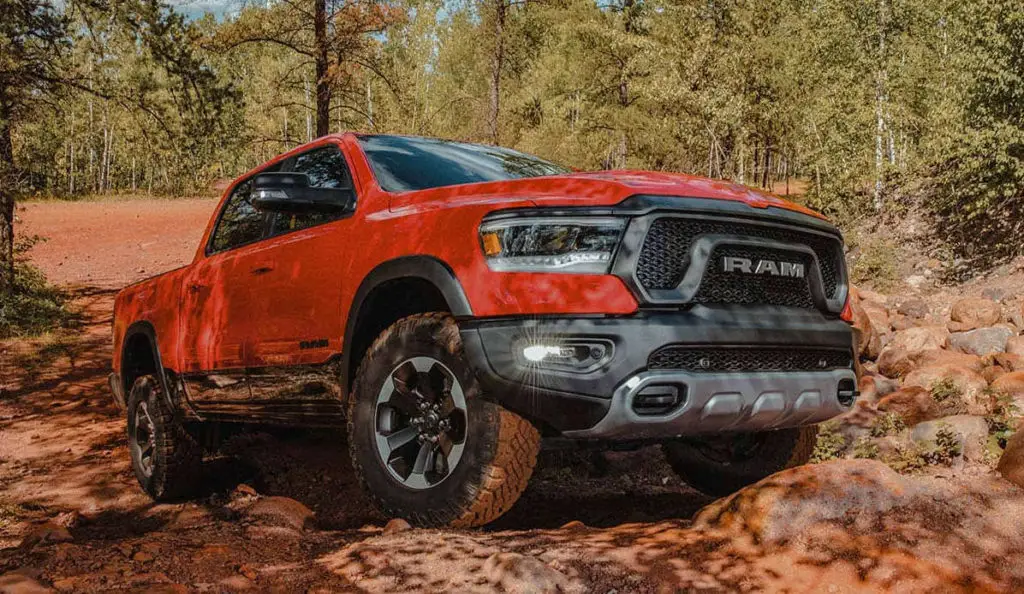 Over the past few years, Ram has seen an increase in popularity, sales, and revenue. The Ram 1500 is one of the best-selling trucks in the world, raking in many awards since it was first a few years ago. Only by its looks can you tell how rugged and powerful the Ram 1500 is. When you look further at this pickup truck, you will realize it was built to let you achieve even the most difficult of tasks.
Available Trims
What sets the Ram 1500 apart from the other pickup trucks on the market is the availability of many options as far as trims are concerned. The Tradesman trim is the least available trim and will only set you back by $32,795 USD. Coming after the Tradesman is Tradesman HFE which is priced at $34,645 USD. Other trims include the Big Horn, Laramie, Rebel, Limited Longhorn, and Limited, with pricing starting from $37,390 USD, $42,080 USD, $46,120 USD, $52,780 USD, and $56,850 USD, respectively.
Performance
The 2022 Ram 1500 offers five different choices of engines, all designed for top-notch performance, among which is the 5.7-Liter HEMI V8 engine with eTorque Mild Hybrid Technology System which blends performance-enhancing and efficient technologies with the addition of an available 395 hp, 410 lb-ft of torque and towing capacity of up to 12,750 lbs.
Safety Features
With the 2022 Ram 1500, you can enjoy extra safety thanks to the advanced features, including Lane Departure Warning, Collision Warning, and Pedestrian Emergency Braking.
4. 2021 Ford F-150 Hybrid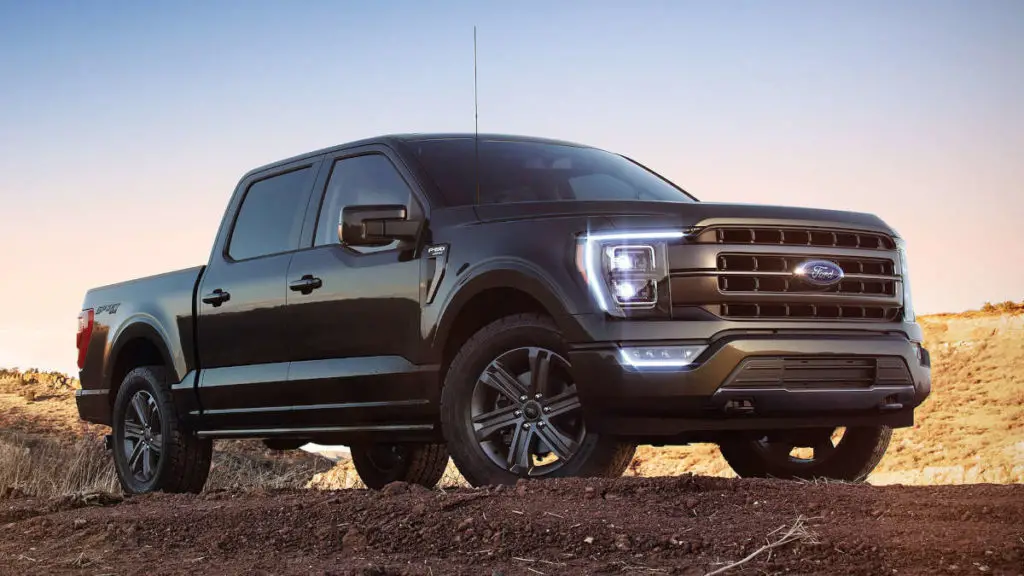 According to Ford, this is the smartest and toughest F-150 ever to be created, and those claims are justified by the crazy performance stats the tough pickup truck comes with. We all know Ford as a brand that produces strong vehicles, and it continues to further cement its status as one of the best in producing the F-150.
Available Trims
The 2021 Ford F-150 is available in eight trims: XL, XLT, Lariat, King Ranch, Platinum, Limited, Tremor, and Raptor. As one would expect, the Limited model is the most expensive trim of the whole pack, with a starting MSRP of $73,105 USD. The XL has a starting MSRP of $29,290 USD, while the XLT, Lariat, King Ranch, Platinum, Tremor, and Raptor have starting prices of $35,400 USD, $45,045 USD, $56,015 USD, $58,795 USD, $49,505, and $64,145 respectively.
Performance
The 2021 Ford F-150 features an available 3.5L PowerBoost Full-Hybrid V6 engine breaking ground with the collective power of gas and electric energy. This powerful engine helps the truck deliver 430 horsepower, 570 lb-ft of torque, and a maximum of 12,700 lbs of towing capability; to top it off, the available hybrid engine has a heavy-lifting maximum available payload rating of 2,120 lbs.
Safety Features
Some safety features of the 2021 F-150 include MyKey, Perimeter Anti-Theft Alarm, SecuriLock Passive Anti-Theft System, Spare Tire and Wheel Lock, and many more.