SUVs have a reputation for being slow and are often overlooked in situations when speed is a must. Although SUVs aren't usually thought of as the fastest vehicles, there are several quick alternatives to consider. The performance of SUVs was never a secondary consideration when it came to their production by traditional automakers. However, times have changed, and many modern SUVs are as performance-packed as any sports car.
Listed below are the top 10 fastest SUVs in the world in 2023, perfect if you're looking for a super SUV that still has all the features you need, such as capabilities, durability, and reliability.
10. Alfa Romeo Stelvio Quadrifoglio (176 MPH)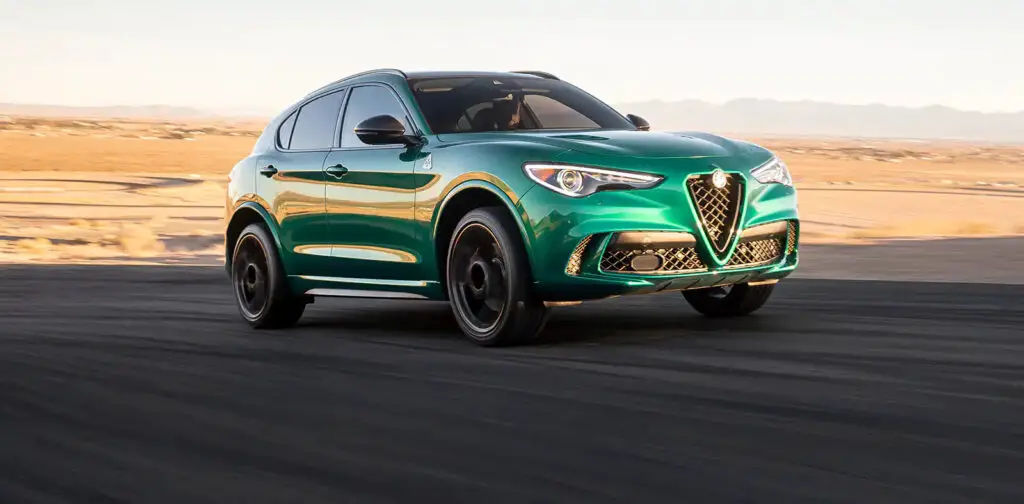 The Stelvio Quadrifoglio is a high-performance SUB that Alfa Romeo introduced in 2017. Its top speed of 176 mph makes it among the fastest SUVs on the market. The Stelvio Quadrifoglio can accelerate from 0 to 60 mph in just 3.9 seconds due to its 2.9-liter V6 engine's 505 horsepower and 443 lb-ft of torque.
As well as being swift and agile, the Stelvio Quadrifoglio has excellent handling and a stunning appearance. In addition to the car's great performance, it's a common choice for families or individuals who require space for camping gear. Starting prices for the Ti model are $51,150, the Veloce trim is $52,950, and the new Estrema variant is $58,950. The manufacturer's suggested retail price (MSRP) for the powerful Quadrifoglio is $85,300.
9. BMW X5 M Competition (177 MPH)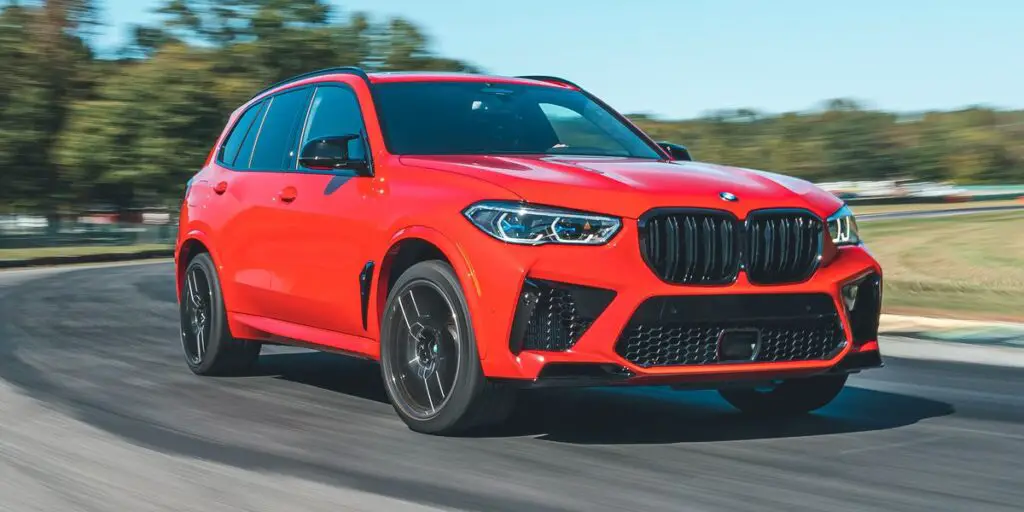 At number 9 on our list is the BMW X5 M Competition. This SUV is high-preforming with a top speed of 177 mph. The BMW X5 M Competition comes with a 4.4-liter V8 engine that produces 617 horsepower and 553 lb-ft of torque which allows it to go from 0-60 mph in just 3.8 seconds.
The X5 M has a sport-tuned suspension and an M-specific all-wheel-drive system leading to improved handling and stability. This SUV is also very spacious and practical, which makes it a popular choice for those who look for both performance and versatility. Pricing for the 2023 BMW X5 M Competition starts at $109,895.
8. Jaguar F-Pace SVR (178 MPH)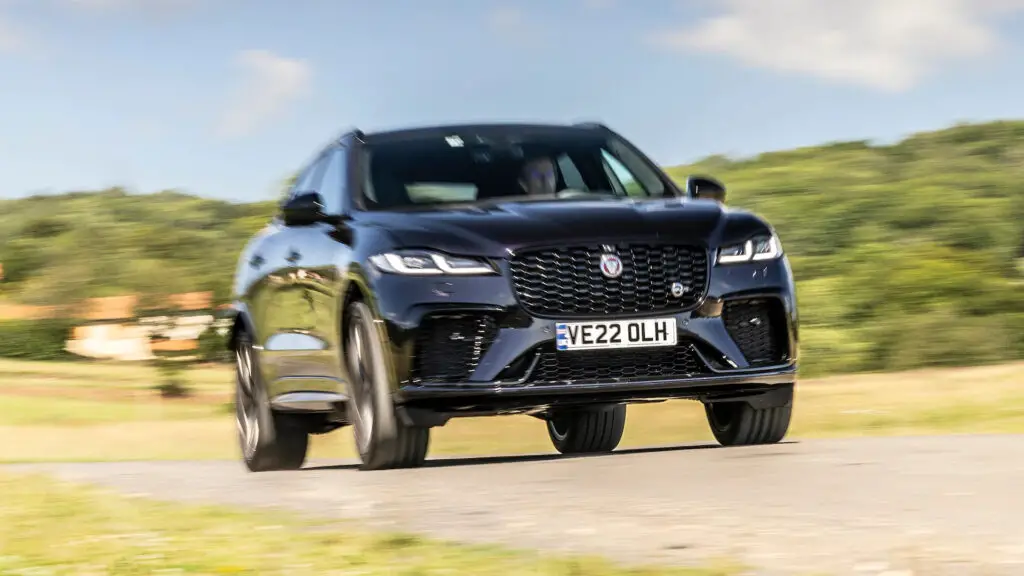 The Jaguar F-Pace SVR is a high-performance version of the F-Pace SUV. Under the hood is a 5.0-liter V-8. With an eight-speed automatic transmission, this engine transmits its remarkable 550 horsepower and 516 pound-feet of torque to all four wheels. The high-performance SUV can accelerate from 0 to 60 mph in 3.8 seconds and reach a top speed of 178 mph with the help of this potent engine.
The starting price for the base P250 model of the 2023 Jaguar F-Pace is $52,400. Starting prices for the P250 S are $56,000 and the P400 R-Dynamic S with six cylinders are $64,800. The V8-powered SVR model's starting price is $89,500.
7. Aston Martin DBX (181 MPH)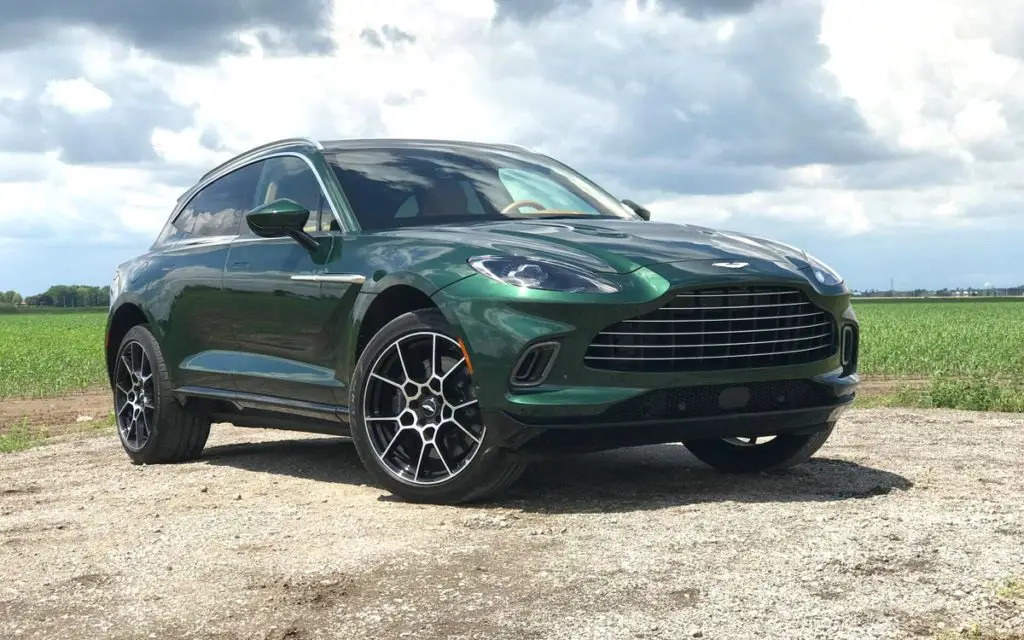 Since its release, the DBX has generated buzz all around the world as Aston Martin's foray into the SUV industry. Aston Martin's first SUV, when compared to many other fast SUVs on this list, has a top speed of 181 mph and a 0-60 mph acceleration time of 4.3 seconds. Up until the groundbreaking announcement that you'll learn about as you continue reading, many people saw these specifications as a letdown for an Aston Martin brand.
A 4.0-liter twin-turbocharged V8 engine with 542 horsepower and 516 lb-ft of torque powers the 2023 DBX. The SUV costs a whopping $179,986 because of luxury, style, and a slew of safety features in addition to performance and the authentic Aston Martin experience.
6. Porsche Cayenne Turbo GT (186 MPH)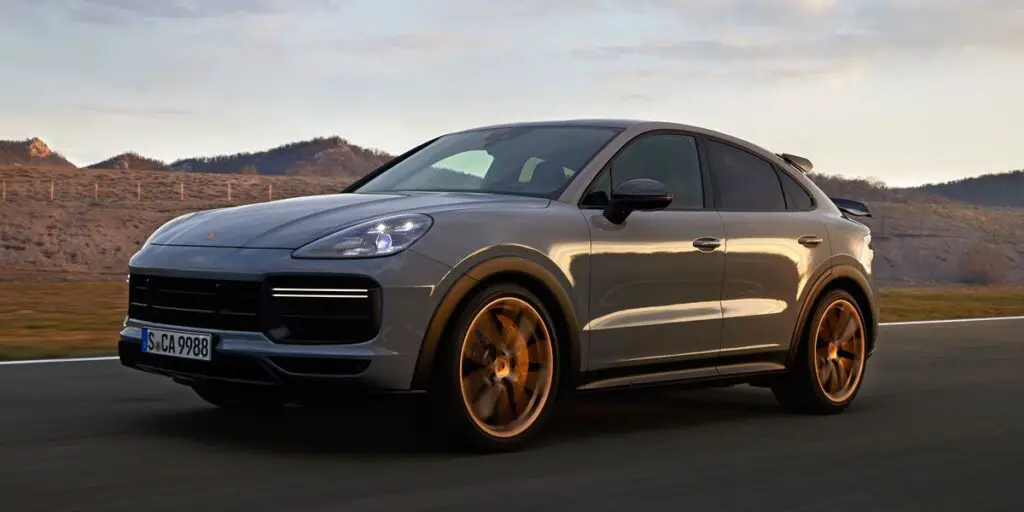 Few companies are as dedicated to the marriage of performance and design as Porsche. From a distance, the all-new Porsche Cayenne Turbo GT may easily be mistaken for a hatchback, but up close, you'll see that you're in front of a luxury compact SUV that also happens to be one of the most potent models available.
The Cayenne Turbo GT has a 4.0-liter twin-turbo V8 engine that produces an incredible 631 horsepower and 626 lb-ft of torque, allowing it to accelerate from 0 to 60 mph in just 3.1 seconds and achieve a top speed of 186 mph. The price of this beautifully constructed luxury compact SUV is a hefty $188,700.
5. Maserati Levante Trofeo (187 MPH)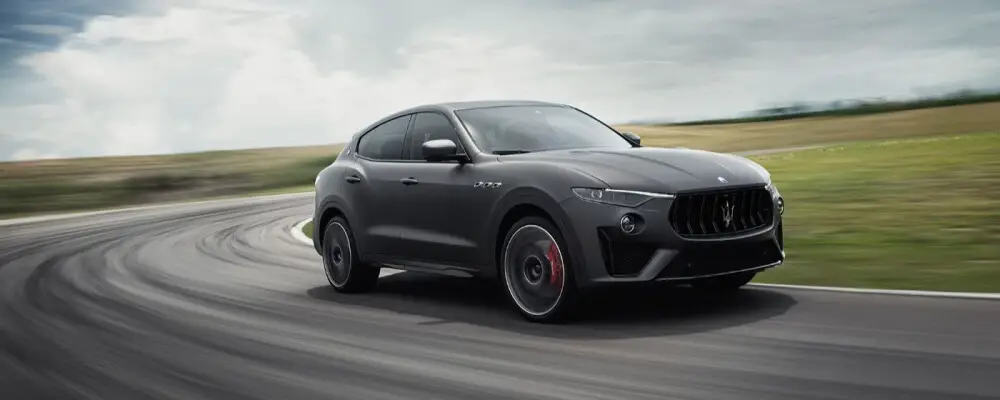 Maserati's goal to develop into a high-volume manufacturer and a true rival to the Audis and BMWs of the world is centered on the Levante, a concept that enthusiasts may despise. The Levante was first released in 2017 and received a midcycle facelift from Maserati for 2021; it will remain unaltered for 2023. The Levante is designed to compete with other midsize luxury SUVs like the Mercedes-Benz GLE-Class, Porsche Cayenne, and BMW X5.
Although some of its models are more affordable, many customers still view Maserati as an exotic automobile manufacturer that solely produces six-figure luxury vehicles that are out of reach for everyone but investment bankers. However, don't mistake the Levante for being cheap. A base Levante GT costs $89,095, while a top-of-the-line Trofeo costs at least $162,895.
4. Audi RS Q8 (190 MPH)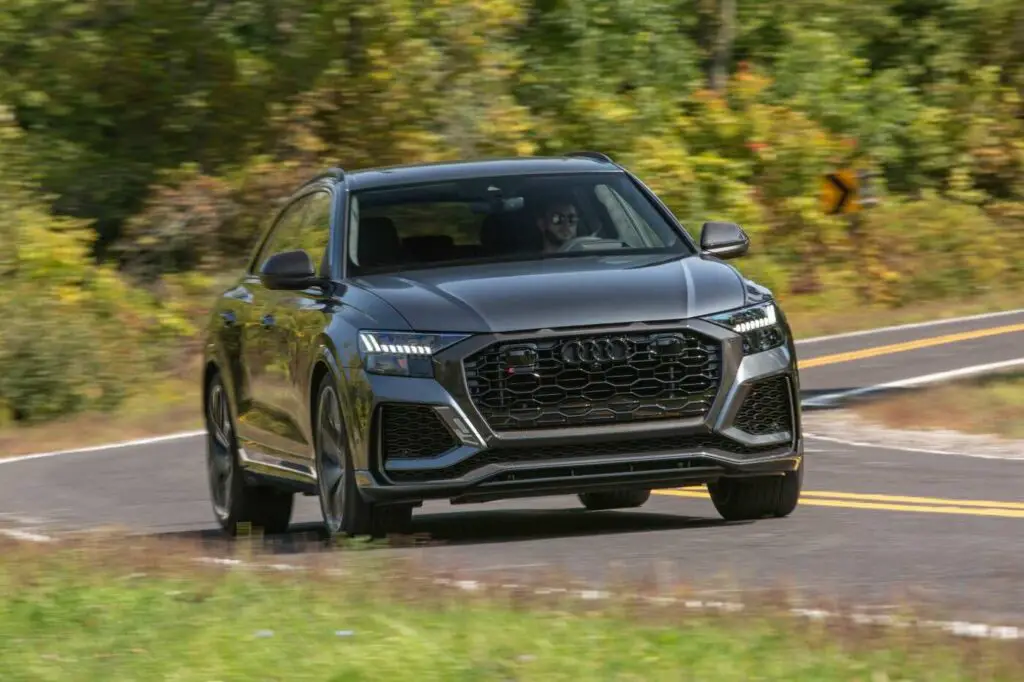 Audi has created a true SUV that is useful for many things. If you can afford it, this is one of the first options you should consider if you're searching for a sporty SUV. This is advantageous because the luxury SUV has a lot more to offer than simply a sporty appearance. The twin-turbocharged 4.0-liter V8 engine that powers the Audi RS Q8 generates 591 horsepower and 590 lb-ft of torque. The super SUV has a 3.7-second 0-60 mph time.
3. Bentley Bentayga Speed (190 MPH)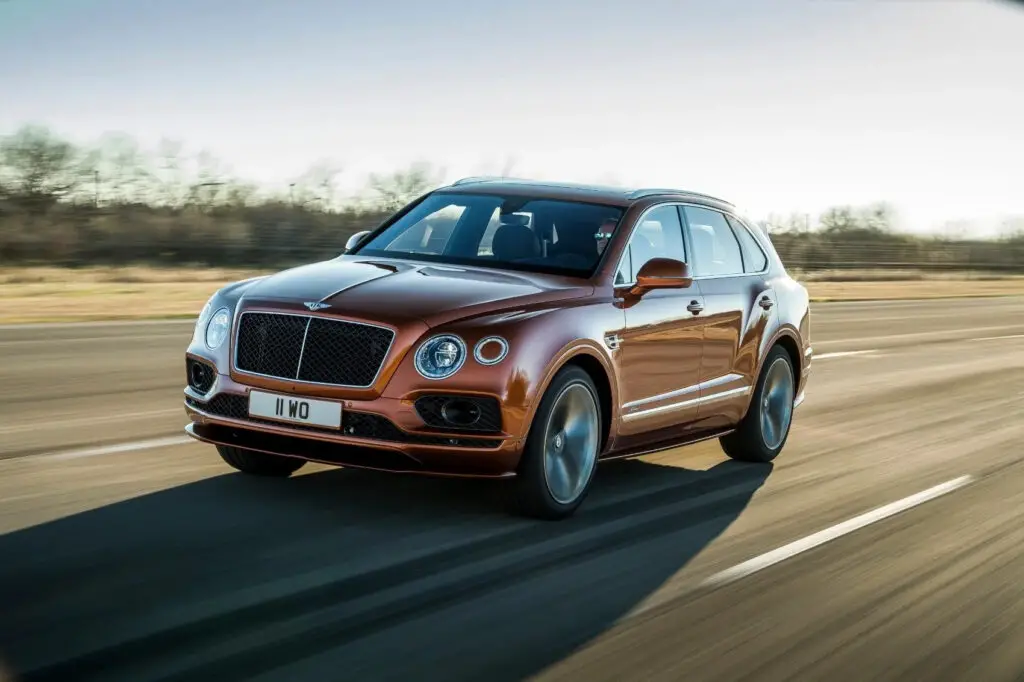 The most fascinating thing about the Bentley brand is how eagerly it likes to leave its stamp on many facets of the automobile business. Bentley's entry into the SUV market came with the Bentayga, and things have only gotten better since then. When a Bentley car model's name extension includes "speed," you should be aware that the vehicle is poised for action.
The Audi RS Q8 and the Lamborghini Urus, which both have a top speed of 190 mph, are in the same exclusive class as the Bentayga Speed. The Bentayga's 6.0L W12 engine, which contributes to its exceptional 626 horsepower and 664 lb-ft of maximum torque, is what makes it unique. We are most excited about this super-elegant performance SUV since Bentley didn't skimp on the crucial luxury elements it needed to maintain its top position.
Although the Bentayga takes 3.8 seconds to accelerate from 0 to 60 mph—0.1 seconds more than the Audi RS Q8—it is still faster than many other high-performance luxury cars on the market.
2. Lamborghini Urus (190 MPH)
The Lamborghini Urus, the third and final member of the group of the second-fastest production SUVs in the world. Lamborghini is known for producing some of the best sports cars, or more specifically, super SUVs, in the world. The LM002, one of the very first off-road-capable SUVs ever made, was created by the Italian automaker in the 1990s, earning them the right to make this claim. 
The Urus manages to have additional incredible qualities that make it a good pick for individuals searching for something tough despite having a crazy top speed of 190 mph.
A 4.0-liter twin-turbocharged engine with 641 horsepower and 627 lb-ft of maximum torque powers the Lamborghini Urus. The Urus is the quickest to reach 60 mph from a stop among the top 3 second-fastest SUVs in the world, doing it in under 3.5 seconds.
1. Aston Martin DBX707 (193 MPH)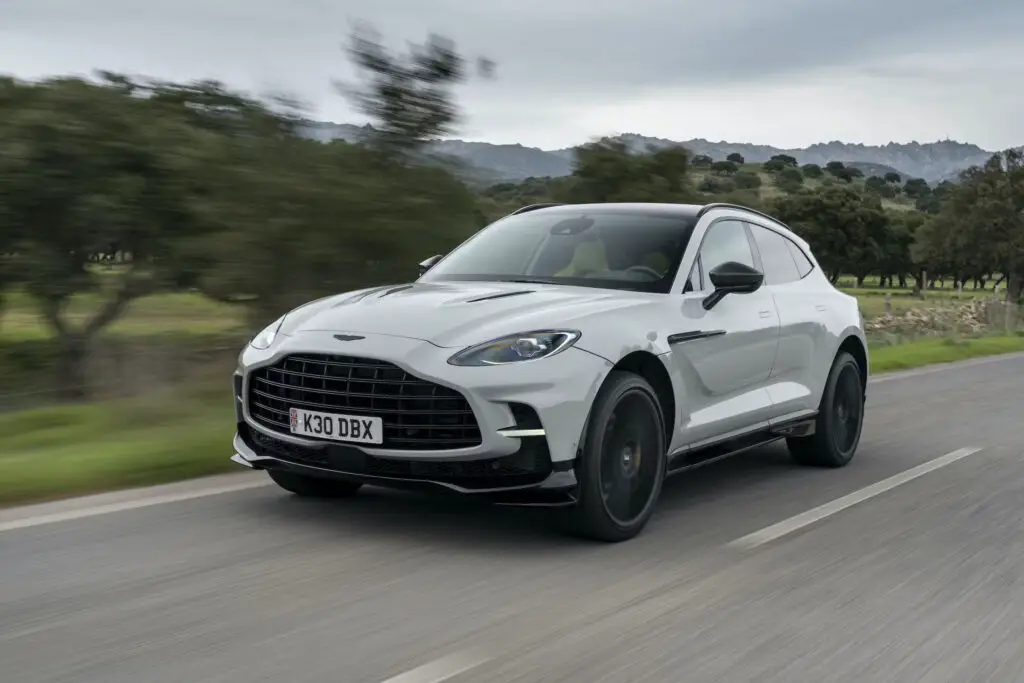 In 2022, the Aston Martin DBX707 will be the world's fastest and most potent SUV. The British luxury car manufacturer went back to the drawing board to solve the problems the DBX couldn't solve. Aston Martin recently presented the DBX707, a much-improved version of the DBX, at a formal ceremony. With a nine-speed automatic gearbox, the twin-turbocharged 4.0-liter V8 engine of the Aston Martin DBX707 produces a potent 697 horsepower and 663 pound-feet of torque, enabling it to accelerate from 0 to 60 mph in as little as 3.1 seconds and reach a top speed of 193 mph.
The Aston Martin DBX707 is not only the fastest SUV in the world right now, it is also the fastest production SUV. If you're seeking luxury, performance, sophistication, and class. For a starting price of $239,086, you'll receive the Aston Martin DBX707, which offers all of the aforementioned and much more.